Steven Tyler Now Merely Taking Two Years Off From Aerosmith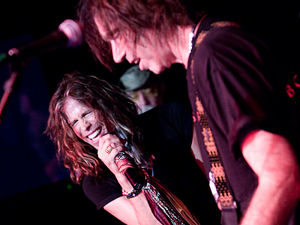 Well, so much for that. Just days after Aerosmith started calling for a new lead singer, Steven Tyler himself showed up Tuesday night at a Joe Perry Project performance to announce that he is not leaving the band after all.
"Joe Perry, you are a man of many colors. But I, motherfucker, am the rainbow," he said to the crowd, before leading a rendition of "Walk This Way."
But his not-so apologetic apology could not reconcile differences Tyler held with the rest of the band, as Rolling Stone reports today. Perry, Aerosmith's guitarist, says that Tyler still wants to take two years off as the rest of the band continues to work. As revealed on Monday, Tyler had also wanted to revert back to their earlier, bluesier days of "Dream On" and "Sweet Emotion," while Perry gravitated toward the direction of later hits like "I Don't Want to Miss a Thing."
As fans have witnessed over the past few months, communication does not come easily for Aerosmith. For one, Tyler's ambushing of the stage came rather unexpectedly to Perry. "There was all this commotion during our encore break and somebody said, 'Steven is here,'" Perry told Rolling Stone. "And I was like, 'What?' Being an acquaintance of 40 years, I said, 'Why not?' So he came up and sang and that was the last I saw of him.
Plus, as previously reported, Perry only found out of Tyler's intentions through blog posts. "We just kind of didn't want to call him out or anything and get him anymore pissed off, for whatever reason," Perry told The Sun. "So we just let things lie." Kinda puts that temperamental dude at your workplace in perspective, no?
Got news tips for Paste? Email news@pastemagazine.com.
Others Tagged With