Writer Ian Martin Exposes Hate Speech on Twitter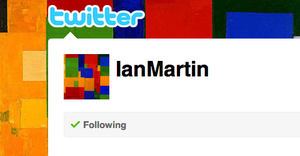 British writer Ian Martin is engaging in a month-long social-networking experiment that will likely make your blood boil. He has replaced his usual followers on Twitter with hate-filled users (neo-Nazi's to sexists to racists to homophobes) from all over the social networking site.
Followers can read the Tweets at @IanMartin and then post reactions to Martin's project via the hashtag #wrongtwitter.
U.K.'s The Guardian reports that Martin launched this experiment in order to expose the variety of extremely unsettling voices out there, particularly on Twitter. When you only follow your friends, and they follow you, he says, "it's like a warm blanket when you open it up every morning. But it all just suddenly seemed a bit too comfortable."
Martin says the results of his experiment have been disheartening and fairly alarming. "It's a relief when you get people who are just calling for an armed revolution to get rid of Barack Obama because he is a Marxist Muslim."
At the end of November, Martin insinuates he will use the material he's gathered to draw larger conclusions and write something about it. In the meantime, he has much more immediate goals. "The interesting thing is trying to track my mental disintegration through the month."
Martin's focus in this experiment has been to illuminate the hate-mongering that occurs over the internet, though the project does have a political bent. Indeed, Martin's pedigree is as a political writer. He is a regular writer on the political series, The Thick of It, which airs on the BBC. And he was a contributing writer to this year's politically satirical film In the Loop.
Got news tips for Paste? Email news@pastemagazine.com.
Others Tagged With