Allman Brothers Museum Opens in Macon, Ga.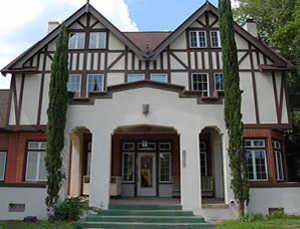 The former road manager for legendary Southern rockers, the Allman Brothers, is opening a non-profit museum in what was formerly known as The Big House, the home in Macon, Ga. once occupied by some of the band's members in the early 1970s.
West and his wife, Kirsten, lived in The Big House until 2003. During their time there, thousands of visitors from all over the world—Germany, Italy, Japan and Australia—knocked on their front door just to peek at the band's former stomping grounds and site of inspiration, where some of the band's finest songs were penned.
One of these songs was "Blue Sky," which sprung from former guitarist Dickey Betts while staring out of the living room window one morning. "The line in the song," museum co-curator E.J. Devokaitis told The Macon Telegraph, "'Good old Sunday morning, bells are ringing everywhere,' that was from that church across the street. It's still there."
It wasn't until West decided to sell the house in 2003 that his vision for the museum really took form, sprouting from the suggestion of a potential buyer. It took five years of fundraising and two years of renovations before The Big House Foundation was ready to open the front doors to its museum. It was all made possible by about $2.5 million of donations sent from all over the country.
"At times, I've tried to be practical about it, but seeing it come to fruition," said Kirsten West. "It's a tribute to the band, but equally it's a tribute to the fans who believed that we could do it."
Aside from funds, companies also donated raw materials and labor to see the renovations through. "We had a roofer come in from New York, donated all the materials and put the roof in, and all it cost us was a week's worth of hotel rooms," said Greg Potter, the Allman Brothers Band president.
Now The Big House is stuffed with Allman Brothers memorabilia, like Gregg Allman's Hammond B-3 electric organ, Berry Oakley's Hummingbird acoustic guitar and Butch Trucks' drum kit. The walls are adorned with pictures and gold records, while handwritten song lyrics, tickets, contracts and checks rest in display cases.
A house-full of musical antiques seems a lot, yet Devokaitis said the display counts for only 10% of the museum's collection, not including the memorabilia loaned by fans and relatives of band members. This could make for dynamic exhibits in the future. The Big House will be frequented by Allman Brothers members, who plan to tutor music for children on the top floor, the old recreation room for the band.
The museum's grand opening will take place early 2010. Meanwhile, the doors will be open on a limited schedule through the end of the year.
Got news tips for Paste? Email news@pastemagazine.com.
Others Tagged With