Aziz Ansari and TV on the Radio's Dave Sitek Working on Mixtape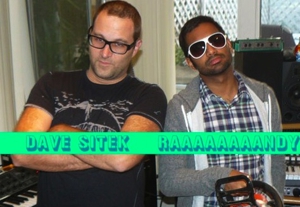 When the 10th best comedian of the decade meets the eighth best producer of the decade (who just so happens to play on the 40th best album of the decade), sparks are bound to fly.
And according Aziz Ansari's website, they'll be flying all over your pillow.
Ansari posted this morning that he and TV on the Radio's Dave Sitek were working on a mixtape together. A mixtape of what, exactly? Well, that we don't quite know yet. The fact that Ansari's post has him holding a chainsaw and is labeled RAAAAAAAANDY (who, most would agree, was robbed of a spot on our Best Comedians list) while Sitek looks to be on the verge of giggling leads us to believe that the project won't be serious music for serious people, but fun music for fun people. Or, something.
While the post gives us no inclination for what resulting musicomedy might sound like, we are given three directives:
1. Y'all ain't ready.
2. Motherfuckers need to know.
3. Get yo' shit.
When the time comes—seemingly in Feb. 2010—we'll be ready. After all, two months is a long time to get our shit.
Got news tips for Paste? Email news@pastemagazine.com.
Others Tagged With