Best of What's Next: Fool's Gold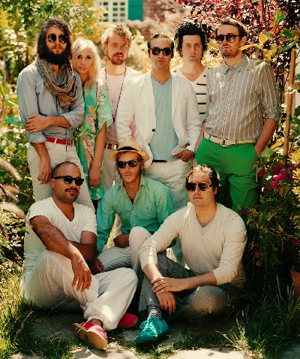 Hometown: Los Angeles
Album: Fool's Gold
Members: Brad Caulkins (saxophone), Erica Garcia (percussion), Amir Kenan (keyboards), Orpheo McCord (drums), Mark Noseworthy (flute), Lewis Pesacov (guitar), Salvador Placencia (percussion), Matt Popieluch (guitars), Garrett Ray (drums), Mike Tapper (percussion), Luke Top (vocals/bass), Jimmy Vincent (guitar)
For Fans Of: Tinariwen, Femi Kuti, Vampire Weekend
It's a rainy night in Brooklyn during CMJ 2009, but despite the frigid, industrial malaise, Luke Top is feeling cheerful. The 29-year-old vocalist and bass player for the pop collective Fool's Gold is sporting a bleach-white fedora and sipping a pilsner along with guitarist/songwriter Lewis Pesacov, who also seems to be having a wonderful time.
There are plenty of reasons for the two to be in high spirits: Their band's self-titled debut was recently released by Iamsound Records, and before that they'd been heralded online thanks to the video for contagious summertime anthem "Surprise Hotel." In the middle of one of their first major tours, they learned of an impending international jaunt to the U.K. and Israel; in December, the band will play another string of shows in the U.S. and Canada. But you get the feeling that Top and Pesacov are pretty happy guys no matter what, a notion only reinforced by Pesacov describing his occasionally-12-strong band as "a giant barbecue."
"It was for a long time and it still is. It's just hard to bring the barbecue onstage with us," he says. "What else are you going to do with 12 people? For the first three years, it was a friendly jam—it was like a friendly jam until last week. We played a lot of house parties and backyards for a long time."
"My house was maybe one of the first shows," Top says. "Then this girl hired us to play her birthday party in a park, Spiraling Orchard. There was no power in the park. We ran a line from a neighbor's house. All the neighborhood kids came in. It was actually a really fun time."
Fool's Gold's burbling confluence of styles and energy perfectly suit it for such impromptu gatherings. The band's signature sound—Top describes it as an "Afro-Hebrew cake"—blends an intoxicating litany of Middle Eastern, African, Hebrew and Krautrock ingredients into an ecstatic and highly danceable whole. Pesacov, who who also plays in the melodic indie quartet Foreign Born, draws his guitar flourishes right from the source. "You think of Africa as this huge continent and there are so many different musical styles that underpin greater regions," he says. "Specifically, there's a certain type of guitar playing that comes out of Mali. And then on the flip-side in the Congo and Zimbabwe, there's a totally different type of music, also from a guitar player's perspective. But they're still both focused on layering melodies, rather than playing chords in a pop song."
This improv-centric mentality is evident throughout the band's intoxicating debut, a spontaneous combustion of spiraling polyrhythms and airborne guitar loops—gradual and engulfing, not unlike a tribal chant or trance song. The group initially played many of its first songs (like "Night Dancing") using only two notes, allowing them to build into epic jams. Top's soaring tenor ties everything together, with lyrics composed almost exclusively in Hebrew.
Top doesn't have a specific reason for deciding to sing in a foreign language ("It just sounded so right from the get-go," he says) but his personal connection to the Israeli legacy is profound—in a way, he owes his very existence to Judaism. His mother escaped from Baghdad to Israel as her birth country became increasingly anti-Semitic during World War II; his father was physically carried through Russia by his own mother. Both of Top's parents eventually made their way to the newly formed Hebrew state, but later moved Top and his brothers to L.A.'s San Fernando Valley to spare them from Israel's mandatory military service. Pesacov also grew up in the Valley, where he played in various high school bands. He and Top actually performed the same bill at the Roxy Theater when they were teenagers, but only met and started making music together years later.
Tonight, in overcast Brooklyn, witnessing Pesacov, Top and their ten colorful bandmades serenade a glumly subdued Williamsburg crowd is a study in contrasts. Onstage, Fool's Gold eventually crescendos into a full-blown climax of sound and fury, projecting their California sun over the entire club as Top sings "Nadine," the second track from Fool's Gold, repeating the name over and over in a sustained croon. The audience seems glum, but as the music twists and chimes into an overarching sonic loom, the mopey crowd finally gives in, shuffling and moving to the ravenous beat. If the members of Fool's Gold can achieve this in an under-lit, self-conscious club in Brooklyn—or anywhere else—then they certainly have reason to be happy.
Others Tagged With