Best of What's Next: Michael Ford, Jr. & The Apache Relay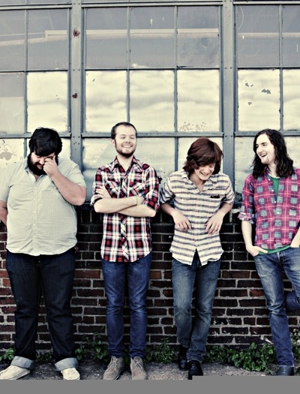 Hometown: Nashville, Tenn.
Members: Michael Ford, Jr. (vocals, guitar), Michael Harris (guitar, background vocals), Brett Moore (mandolin, tenor guitar, organ), Kellen Wenrich (fiddle, chord organ)
Album: 1988
For Fans Of: Nickel Creek, John Butler Trio, The Avett Brothers
It was a match made in heaven. Or, at least, in Nashville.
Earlier this year, Michael Ford, Jr. was a solo artist braving the stages of Music City alone. A music business major at Belmont University, the long-locked musician was writing songs and had even dreamed up an album concept— he'd call it 1988, after the year he was born. At the time, he was hung up on Bruce Springsteen's Nebraska and The Avett Brothers' Second Gleam EP, and was studying the latter's liner notes when he came across the name of Doug Williams. After some digging around the Internet, Ford got in touch with the North Carolina producer, and in February, through a series of email exchanges, Williams had turned his ear to Ford's music. But the youngster needed a band.
Meanwhile, a trio of fellow Belmont students armed with guitar, mandolin and fiddle was floundering through progressive bluegrass jams under the name Apache Relay. "Honestly, it was a dead end," says mandolin player Brett Moore during a recent tour stop in Bradenton, Fla. "It wasn't going anywhere. It really took meeting Michael and joining with his songs to get the wheels rolling… We needed a partner in songwriting."
Apache guitarist Mike Hall knew Ford from their freshman-year dorm, and when the two reconnected in March, both problems were solved. By May, Ford had won Williams' full approval and some studio time. The now-quartet, who had been rehearsing Ford's songs in a chapel bell-tower on Belmont's campus, packed up their gear and headed for North Carolina where they laid down their debut—and to their great delight, snagged guest spots from a few of their heroes: seasoned Nashville bassist Byron House, Avett Brothers' cellist Joe Kwon and Ohio-based folk nymph Jessica Lea Mayfield.
"The one thing about this band that's different from any band I've ever been in is that we don't think in realistic terms," Ford says. "When we were talking about this record, these are the people we had in mind. We never put limitations on our dreams as a band. This record was made on optimism."
Spring had sprung, and so had the young band. As the semester ended, the foursome found themselves a booking agent and took off doing shows. House sat in on their first show at legendary Nashville bluegrass hub The Station Inn, an opening spot for Cadillac Sky. As the summer coursed on with night after night of gigging in bars and clubs, the band and their families collectively decided that in the fall, they'd withdraw from school to promote the new album, released in September.
1988, a record born of inspiration from Springsteen's stripped-down solo effort, blossomed into something far more lush as Ford welcomed the Apache boys into the fold. It's a spirited collection of songs that shine with hope like light under a doorway. "Sweet Louisianne," Ford's love letter to his hometown of New Orleans, brims with optimism as he consoles, "Remember who's on our side," over fiddle sighs and mandolin chirps. His songwriting is consistently earnest, kind and comforting, traits matched in the bright bluegrass accompaniment. "Seasons were meant to end / I will not try to start again," he sings to an old friend on "Sisters, Brothers, Lovers."
"A lot of the time, people and friends and things that happen are for seasons," he says of the track. "And you have to move on and realize that and not get stuck." He and his Apache Relay are taking this to heart, approaching each phase of their collaboration without looking back but taking every opportunity that crosses their path. Their summer of touring has lasted well into the fall, and they've got more shows in the works for the winter and spring. "This season's almost like the calm before the storm," says Ford. "One thing we're really focused on is having right relationships within the band before we get on the road with each other. So right now, we're just trying to love one another and be healthy as a band before we hit the road to tour."
"This is also a time where we are paying dues," Harris chimes in. "And we love that. I mean, we're going to play a show tonight in a town that we've never heard of. Maybe three or four people will show up, and that's just part of it right now. We're okay with that."
Whether three people or three hundred people showed up at that gig in Bradenton, it wouldn't have mattered to these folk freshmen, who have gotten a kick out of each piece of this year's puzzle. "I think it's very important to all of us," Harris says, "that this music reminds people that God still does miracles."
Others Tagged With