Best of What's Next: Royal Bangs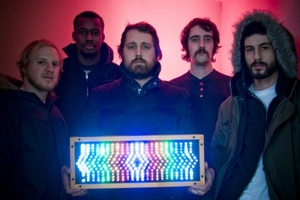 Hometown: Knoxville, Tenn.
Album: Let It Beep
Band Members: Brandon Biondo (guitar), Henry Gibson (bass guitar), Chris Rusk (drums), Ryan Schaefer (vocals, keyboards), Sam Stratton (guitar)
For Fans Of: Wolf Parade, Arctic Monkeys, The Black Keys
In 2006, grungy electro-poppers Royal Bangs weren't doing so well. The band was literally giving away its home-recorded album, We Breed Champions, online, and lead singer Ryan Schaefer had had enough. So he packed up and moved to France. "The publicist says I was soaking up inspiration," Schaefer says today. "I was mostly just soaking up Chimay."
Meanwhile, back at home, drummer Chris Rusk took a chance and had the kind of luck most bands only dream about. On a whim, he sent a MySpace message Black Keys drummer Patrick Carney, who improbably answered him back. What happened next was enough to lure Schaefer home from France: In 2008, Carney reissued We Breed Champions on his Audio Eagle label and launched them on a nationwide promotional tour that found the band opening for the Black Keys and playing a nationwide festival circuit, including stops at South by Southwest and Bonnaroo.
Those successes brought growing pains in the form of two original members' departure and the related challenge of filling the subsequent voids. All bands need to gel, but Royal Bangs' live shows make finding members well-matched in energy and temperament absolutely essential. Their performance at the Cake Shop during CMJ 2008, which found them dragging the drum kit into the crowd, was the first show new bassist Henry Gibson played with the band—and was enough to snag them a deal with a European distributor for their debut.
The band clearly thrive on flying by the seat of their collective pants. And though the specific chaos of each of their live shows is rarely premeditated, Schaefer says, they makes a conscious effort to play every gig with the same level of enthusiasm. This comes, in part, from the bandmates' dissatisfaction with acts touring through their hometown of Knoxville, Tenn. "I think that came from watching a lot of bands who come through from bigger cities and seem bummed out because there's only ten people there," he says. "But it's not those ten people's fault that nobody else came. We hate seeing bands who aren't engaged, or are too cool."
This fall, Audio Eagle released Royal Bangs' second LP, Let It Beep, an infectious, punk-inflected album that captures the riotous essence of the band's stage show. On the heels of the record release, the fivesome embarked on a nationwide tour in support of Carney's Drummer supergroup, and they'll wrap up 2009 with a homecoming show at the Pilot Light, their favorite Knoxville venue. Something tells us there will be more ten people in the crowd—and that next time Schaefer goes to France, he might be soaking up some more Chimay, but he won't be alone.
Others Tagged With