Best of What's Next: The Swimmers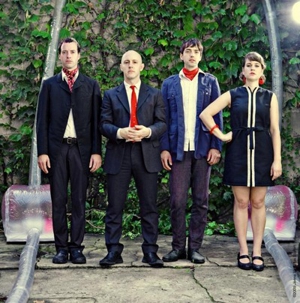 Hometown: Philadelphia
Album: People Are Soft
Band Members: Scott French (drums), Rick Sieber (bass), Krista Yutzy-Burkey (keyboards), Steve Yutzy-Burkey (vocals, guitar)
For Fans Of: New Order, Deerhunter, Muse
The release of a young band's first album is usually an occasion for celebration, but after Philadelphia fuzz-pop collective The Swimmers put out their debut, Fighting Trees, they were left feeling disillusioned and unfulfilled. "We knew we wanted more," says singer/guitarist and principal songwriter Steve Yutzy-Burkey. "We weren't in total control of the mixing and recording process. We actually wanted the first record to be weirder than it was."
The Swimmers formed when Yutzy-Burkey met his future wife, keyboardist Krista, and bassist Rick Sieber in college. The trio eventually moved to Philadelphia where Yutzy-Burkey worked as a pipe-organ tuner, an odd job through which he met drummer Scott French. Soon after, the band started work on its debut, dominated by a guitar-driven power-pop bounce. Fighting Trees was well-received, but the band members knew what they needed to do for the next record. They built a home studio, which allowed them the time and freedom to record as they wished. And they started playing to a new crowd—themselves.
"Our approach was to do it for ourselves, and not really care as much about the audience. We spent a lot of time in a very isolated space while recording it," says Yutzy-Burkey. "I think the [first] record was a conscious effort to be more poppy and upbeat, and write songs that were fun to play live. This time we didn't even think about how we were ever going to perform these songs live."
The result, People Are Soft (out now), sounds like a band rediscovering itself. With the same noise-driven, danceable urgency as classic New Order, laced with slicing synths and swirling guitar, it is a complete break from The Swimmers' past, and a strong statement for their future. Yutzy-Burkey knew change was coming, but he didn't quite realize it would sound like this. "I am putting together recordings and chopping stuff up on the computer as opposed to how it use to happen on the acoustic guitar or piano—I was definitely not comfortable doing that two years ago," he says. "Before, I was always more organic. It had to make sense with me playing it by myself on an acoustic guitar or at a piano. I don't even know if I could play more than one or two songs off the new record acoustic and feel like I am actually capturing what the song is."
With the freedom The Swimmers found working in their own studio, they made an album of songs that exist beyond simple melodies and vocal lines—each track is worked out to its fullest conclusion, each one greater than the sum of its parts. For Yutzy-Burkey, the expanse between Fighting Trees and People Are Soft is nearly insurmountable. "It is really hard for us to perform [the old songs] along side of the new ones. It feels like a very distinct shift," he says. "I don't think the last album was us not being true to ourselves or the band, but we are just pretty far away from that now."
Finally, something to celebrate.
Others Tagged With