Bloc Party, Grizzly Bear, Metric, More Design T-Shirts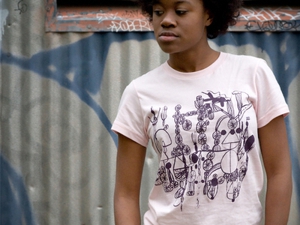 They say the best gifts come from the heart. The best gifts from shows, however, seem to come from the stage: that tossed-off guitar pick, that sweat-flecked set list, or, on rare occasion, that song the band played after you obnoxiously yelled for them to play it. Loudmouth.
Fortunately, the Yellow Bird Project continues to provide their own gifts from the bands themselves, and without any obnoxious crowds. This t-shirt purveyor's holiday batch features designs by Bloc Party, Grizzly Bear (pictured) and Metric, though shoppers can still choose from silkscreened creations by Devendra Banhart, Bon Iver, Stars and more.
As always, proceeds will go toward these bands' charities of choice. Their support can be as unique as the music itself, such as the Ra Ra Riot-led music education project, or the Wolf Parade-supported Glass Casters Union, maker of band-designed holiday ornaments.
To browse through t-shirts by these bands and others, visit YellowBirdProject.com.
Got news tips for Paste? Email news@pastemagazine.com.
Others Tagged With