Catching Up With... Paul F. Tompkins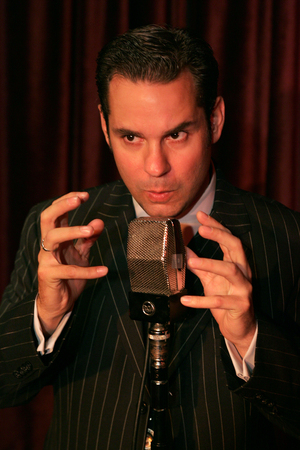 Page 1 of 2
Paul F. Tompkins' relentlessly dapper dress may call to mind a bygone era of elegant comedians, but this 21st century comic has harnessed the power of cable television, YouTube and social networking sites' word-of-mouth to build audiences for himself in quickly growing numbers. Although his tenure as talking head and then, briefly, host, of VH1's Best Week Ever has unceremoniously ended, Tompkins enthusiastically looks ahead to his newest projects. In addition to regular live appearances with the Comedy Death-Ray troupe in Los Angeles, he is also in a near-constant state of motion on various other smaller comedy projects, including a very funny send-up with Comedy Death-Ray of the classic 1984 Band-Aid performance of "Do They Know It's Christmas." His two most notable current projects are his new comedy album, Freak Wharf, which came out this week, and his live Christmas variety show to benefit Habitat for Humanity, which goes down on Dec.19. Paste caught up with Tompkins about his newfound attachment to Facebook and Twitter, the potential pitfalls of headlining a comedy show on St. Patrick's Day in Chicago, and why he's looking forward to his post-Best Week Ever career.
Paste: You have a lot of different projects coming up these days.
Paul F. Tompkins: [laughs] Yes, I do!
Paste: I just watched your rendition of "Do They Know It's Christmas?" with Comedy Death-Ray.
Tompkins: Pretty ridiculous.
Paste: Tell me a bit about what you've been doing. You have an album that came out this week.
Tompkins: Yes. My second stand-up CD, called Freak Wharf, recorded earlier this year in Chicago. We're very excited about it. It was recorded over St. Patrick's Day weekend in Chicago. I didn't kind of think of that until I got there. And then I was like, "Oh, no!" Even though it's not on St. Patrick's Day, the whole weekend is consumed by the holiday. We did two shows and I was so anxious about the crowd just being so drunk. I dreaded listening to the recording because my memory of it was just the anxiety of how the show was going to go. It was months until I finally listened to the recordings and I was so pleasantly surprised. I was like, "This is actually good!" You would never know that I was terrified that drunk people were going to be throwing up through my show. I mean, I recorded two shows and the first show was great and the second one, people were half-asleep by then. So I was very happy to have not only a salvageable recording but a really good recording that I'm really excited about.
Paste: What happens when Chicagoans watch a comedy show on St. Patrick's Day? Were they heckling?
Tompkins: The thing is that people get kind of rowdy. So their response in place of laughter sometimes is just people going, "Whoo!" And stuff like that, and that's fine that people are enthusiastic, but I'm really looking for laughs more than just cheers since it's comedy.
Paste: Right.
Tompkins: But it was really the second show, which started at 9:30 or 10, where people had been drinking all day and then at the show. So by the time I got out there, the response is not quite as big because they just don't have the energy anymore; [they're] on the verge of passing out.
Paste: You've got to love that two-drink minimum in comedy clubs.
Tompkins: This was way more than two drinks. I don't know what kind of drink minimum they had at their own homes, or in bars they went to before the show. And this is in a theater [the Lakeshore Theater in Chicago], so I thought that this will be a grown-up crowd, but that second show was rough. Only the first show made it onto the album.
Paste: You have a 15-minute riff at the beginning of the show. Can you give people a hint of what to expect out of that?
Tompkins: What I like to do when I do live performances is I'll go out and warm the crowd up for myself, if that makes sense. Before I get into my material, I like to do a stream of consciousness thing just to kind of ease into it. It's a fun thing. And it's something I've never really captured on recording before, and so I had not intended to put that on the CD. And when I listened to it, with the advantage of time, having so much time pass between when I did it and when I listened to the recording, it was like I wasn't even listening to myself anymore. It was like I was listening to a comedian whose sensibility I liked, if that makes any sense. So when I heard this stream of consciousness stuff in the beginning, it really made me laugh! Like, this holds up after the fact; you don't have to be there for it. I just start talking, and one thing leads to another, and that's it. It's hard to describe. Because the stuff I touch on is drinking shampoo, people doing cocaine at their offices at work, I talk about not being a college graduate. It's just all over the place. I like it and I hope people enjoy it.
Paste: I'm surprised you're not a college graduate because you're so literate!
Tompkins: [laughs] Yes, I think from the way I present myself and generationally, it seems like I would have finished, but I started doing stand-up a month after I finished high school and then I started going to college. But I had already been doing stand-up. So even though I wasn't getting paid for it yet, I definitely knew, "Oh, this is what I want to do with my life." And so, college seemed unimportant to me all of the sudden, so I just gradually dropped out. I started going to fewer and fewer classes and I dropped out in inches. And then eventually I realized, "Oh, this is why college didn't interest me. It's because this thing that I want to do and am already doing, college is not helping me with it. There's nothing there for me."
Paste: College can definitely be a placeholder. If you're not quite sure what to do, you'll go and spend some time there and try to figure it out.
Tompkins: Yeah, and that's definitely what college is supposed to be. But if you already know what you want to do, and college is not giving classes in the thing that is your chosen profession, then it kind of doesn't make sense to hang around and pay all that money.
Paste: Right. Spend all that money and effort and stress.
Tompkins: Yeah.
Paste: Back to the album, the title is Freak Wharf, a reference to the book Go Ask Alice, and you even have a bit on the album called "Go Ask Alice." So, what was your thinking behind this title? I know it's the mental hospital from Go Ask Alice.
Tompkins: Yes, right. It's always a tough thing deciding what will be the name of this product. What is the thing that jumps out? I listened to it and that was the phrase that jumped out at me. There were a few other candidates, but that was the strongest one.
Paste: This was what jumped out at you listening to the album?
Tompkins: Yeah, at some point you have to sit down and listen and think, "OK, what do I want to call this thing? What title do I want to give it that sums up the whole thing?" And that, to me, was the best one to sum up the whole CD.
Paste: Tell me a bit about "The Paul F. Tompkins Christmas Show to Benefit Habitat for Humanity."
Tompkins: It's on the night of Dec. 19.
Paste: I was looking at your Facebook page about it, but can you give people a sense of what they can expect?
Tompkins: Well, I do a variety show every month. There's always music and comedy. But this month, because it's a charity show, I like to blow it out at Christmas. I'm calling on all of my connections, to have some cameos by some fun, well-known people. There's going to be some good music, going farther than I normally do, and there will be stuff to give away because it's for charity and so there's going to be a couple things that the audience will just get and we'll probably raffle off some things and stuff like that. It's just going to be a big, crazy show.
Others Tagged With