David Byrne, Fatboy Slim, Santigold, More Commemorate Imelda Marcos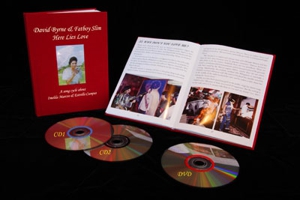 Imelda Marcos, former First Lady of the Philippines, is perhaps best known now for collecting 2,700 pairs of shoes during her 20-year tenure, if not fleeing the country with crates of gold and pesos. But former Talking Heads frontman David Byrne has realized, there is more to Marcos than her material wealth.
Out Feb. 23 on Todomundo/Nonesuch, Here Lies Love fleshes out Byrne's ruminations of Marcos through 22 songs that he first performed in his live, four-night Perspective series. The two-disc concept release, compiled by Byrne and Fatboy Slim, features as many artists as songs, including Santigold, Nellie McKay and Shara Worden of My Brightest Diamond. Here Lies Love focuses foremost on Marcos' relationship with her childhood servant, while tracing Marcos' life from her impoverished childhood to her shameful departure from the Philippines.
Every purchase of Here Lies Love also comes with a DVD and 100-page book detailing the project. For more information, visit HereLiesLove.net.
Tracklist:
Disc 1:
1. Here Lies Love – Florence Welch
2. Every Drop of Rain – Candie Payne, St. Vincent
3. You'll Be Taken Care Of – Tori Amos
4. The Rose of Tacloban – Martha Wainwright
5. How Are You? – Nellie McKay
6. A Perfect Hand – Steve Earle
7. Eleven Days – Cyndi Lauper
8. When She Passed By – Allison Moorer
9. Walk Like A Woman – Charmaine Clamor
10. Don't You Agree – Róisín Murphy
11. Pretty Face – Camille
12. Ladies In Blue – Theresa Andersson
Disc 2:
1. Dancing Together – Sharon Jones
2. Men Will Do Anything – Alice Russell
3. The Whole Man – Kate Pierson
4. Never So Big – Sia
5. Please Don't – Santigold
6. American Troglodyte – David Byrne
7. Solano Avenue – Nicole Atkins
8. Order 1081 – Natalie Merchant
9. Seven Years – David Byrne, Shara Worden (My Brightest Diamond)
10. Why Don't You Love Me? – Cyndi Lauper, Tori Amos
Got news tips for Paste? Email news@pastemagazine.com.