Drive-By Truckers Ready ATO Records Debut, Slate Tour Dates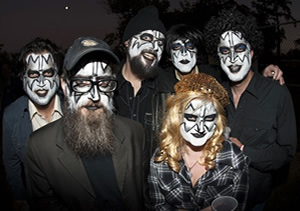 Veteran rockers Drive-By Truckers have managed to stay inspired lately, even with all the world traveling they've done to bring their music to the international masses. The band's 10th studio album, The Big To-Do_, is set for a March 16 debut via their new ATO Records home. Frontman Patterson Hoodhood assured the band is continuing to break new ground despite their long 13-year run, and the extensive touring has only fueled some of their hardest material yet.
"I don't write a lot of songs on the road," he said about the new record in a statement, "but I did more than usual on this album and many more were inspired by or set there, either in a literal sense or something I witnessed or heard about while I was out there… It's very much a rock album. Very melodic and more rocking than anything we've done since disc 2 of Southern Rock Opera."
Starting in 2010, the Truckers will hit the road again, when they'll also announce a full tour supporting the new record. For now we have a handful of dates posted below, as well as a track list for The Big To-Do.
The Big To-Do Tracks:
1. Daddy Learned to Fly
2. The Fourth Night of My Drinking
3. Birthday Boy
4. Drag the Lake Charlie
5. The Wig He Made Her Wear
6. You Got Another
7. This Fucking Job
8. Get Downtown
9. After the Scene Dies
10. (It's Gonna Be) I Told You So
11. Santa Fe
12. The Flying Wallendas
13. Eyes Like Glue
14. Girls Who Smoke (Bonus Track – vinyl only)
U.S. dates:
January
28 – Huntsville, Ala. @ Crossroads Music Hall
29 – Mobile, Ala. @ Soul Kitchen
30 – Tuscaloosa, Ala. @ Jupiter Bar & Grill
February
11 – Greenville, S.C. @ Handlebar
12 – Raleigh, N.C. @ Lincoln Theatre
13 – Raleigh, N.C. @ Lincoln Theatre
14 – Knoxville, Tenn. @ Bijou Theatre
25 – Charlotte, N.C. @ Neighborhood Theatre
26 – Charlottesville, Va. @ Jefferson Theatre
27 – Charlottesville, Va. @ Jefferson Theatre
Got news tips for Paste? Email news@pastemagazine.com.
Others Tagged With
Recommended