Besting The Beatles, Eminem Named Top Selling Artist of the Decade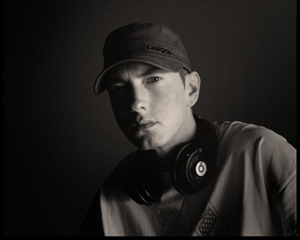 Through raps about drug addiction, his abusive mother, his tumultuous marriage and myriad other assorted troubles, Eminem has mastered the art of turning misery into money. Nielsen Soundscan revealed Tuesday (via MTV.com) that Eminem is the top-selling artist of the decade.
Eminem sold more than 32 million albums in the past 10 years; two of his albums, The Marshall Mathers LP, with over 10 million sold, and The Eminem Show at just under 10 million, rank in the top five bestselling records of the '00s. It's not entirely surprising that the top of the charts belongs to Eminem—his only contemporaries in hip-hop, in terms of broad appeal, are Jay-Z, Kanye and maybe Lil Wayne, but his reign is made only more impressive considering his absence from the charts from 2006's relative disappointment The Re-Up (at only one million sold) to this year's Relapse. In other words, Eminem was only operating at his peak for two thirds of the decade and still came out on top.
For individual album sales, though, the Fab Four still reign supreme. The Beatles' 1 was the bestselling album of the decade with 11.5 million copies sold, followed by *NSYNC. Remember them?
Here's the full album list:
1. The Beatles, 1,11,499,000 units sold
2. *NSYNC, No Strings Attached, 11,112,000 units sold
3. Norah Jones, Come Away With Me, 10, 546,000 units sold
4. Eminem, The Marshall Mathers LP, 10,204,000 units sold
5. Eminem, The Eminem Show, 9,799,000 units sold
6. Usher, Confessions, 9,712,000 units sold
7. Linkin Park, Hybrid Theory, 9,663,000 units sold
8. Creed, Human Clay, 9,491,000 units sold
9. Britney Spears, Oops! … I Did It Again, 9,185,000 units sold
10. Nelly, Country Grammar, 8,461,000 units sold
Got news tips for Paste? Email news@pastemagazine.com.
Others Tagged With