Film Friday: Favorites of 2009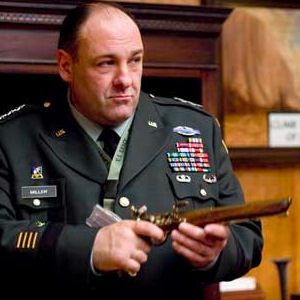 When Chris Anderson used the phrase "long tail" in Wired, he was referring to the way information is gradually detaching from the physical world. Music no longer needs shelf space in stores, and books and movies will surely follow. For businesses who sell physical objects, it's been helpful to have consumers who cluster around a few big titles. That way they know how many disks to make, how many books to print. But a world where shelf space doesn't matter looks pretty different. There may still be big hits, but the demand for more obscure items from deep in the catalog—now just bits on a hard drive somewhere—will increase, Anderson says, freed from the physical limits. So the graph that represents demand for those now readily available bits no longer drops off a cliff. Instead it extends into the horizon, with a long tail.
It hasn't happened with movies, yet, but it will. We're seeing signs already that the heyday of DVDs and Blu-Rays may already be past. But for the most part, movies are still made for theaters where they're shown on celluloid and for homes where they're played on plastic disks.
Although it's not directly caused by the long tail of availability, if I graph my enjoyment of the movies in 2009—putting enjoyment on the Y axis and laying the movies out from favorite to least favorite on the X axis—the resulting picture would show that same long tail. It was just that kind of year: few huge standouts but plenty of very entertaining, rewarding, and diverse films.
If I boil my favorites down to ten, here's what they look like:
Ten Favorite Films of 2009
1. In the Loop (Iannucci)
2. 35 Shots of Rum (Denis)
3. Up (Docter)
4. Summer Hours (Assayas)
5. Inglourious Basterds (Tarantino)
6. A Serious Man (Coen & Coen)
7. The Sun (Sokurov)
8. Beeswax (Bujalski)
9. Julia (Zonca)
10. Pontypool (McDonald)
It feels great to put a teeth-baring comedy in the first slot, the movie that made me laugh the most in 2009 and one of the most quotable films I've ever seen. With 35 Shots of Rum, Claire Denis caps what I think is the most remarkable run of any filmmaker in the 2000's: Beau Travail, Trouble Every Day, Friday Night_, L'Intrusbeaut.html, and now a simple, unassuming, deeply felt story about a father and daughter. I wrote a bit more about it here. Pixar's Up hit me just after a personal loss, and I won't soon forget the experience of watching it in a theater. Judging from the way so many others in the audience were sniffling only 15 or 20 minutes in, I'm not the only one who was affected.
Summer Hours picks up the same theme, not emotionally but thoughtfully. The objects of our lives—our houses and mementos—pass to other people when we go, and even if memories of us travel along with them, for a time, their new owners will imbue them with their own. Memory is also the key element of Quentin Tarantino's fascinating and strangely rewarding revenge fantasy; I've said more about that here. I didn't expect to like it at all, even though I've enjoyed Tarantino's movies in the past. I can watch Kill Bill Vol. 1 and Death Proof over and over like munching on a bag of potato chips, but I wasn't at all looking forward to seeing Nazi jokes through a retro-cool lens. But I was wrong. He had something else up his sleeve, and my interest has been reignited, just as it was in the Coens, full bore, by A Serious Man. It's the second comedy in my list, one of two. Or three, or four, depending on how you count. (You can read my initial thoughts on the film after seeing it in Toronto or listen to a podcast discussion over at my personal site.)
The Sun and Julia are the two highly focused character portraits in my list, two fantastic performances in two very different movies. Issei Ogata plays Emperor Hirohito, cloistered and eccentric at the end of World War II, and Alexander Sokurov shoots him like he's a tiny antique automaton in a dimly lit diorama, so strange. And Tilda Swinton is the high energy kidnapper who makes a cock-up of her money scheme in Erick Zonca's Julia. Each film is built entirely around the powerhouse presence of an arresting individual.
Beeswax is Andrew Bujalski's best film to date, period, a movie that's much sneakier than I think most critics are noticing. His movies about friends naturally feel friendly, warm, inviting, and soft, but in this case those qualities distract—in the way a magician might distract—from a very subtle critique of their flaws, and he does such a good job that you almost don't see it coming. Here's a bit more, in my M-word recap from South by Southwest.
Is Pontypool a horror film? Certainly, even though it takes place mostly inside the sound booth at a small radio station. It builds suspense out of words, it builds themes about words, and it abandons both for a bloody conclusion, or so it seemed until I began to realize that it had actually shifted perspectives, from outside the menace into the madness itself, a thought-provoking piece of filmmaking, far better in my mind than Bruce McDonald's previous film, The Tracey Fragments, with Ellen Page. And I'm sorry to say that by reading these words you've now been infected. Kiss. Kill.
The Long Tail
Choosing ten in a year like 2009 is very difficult, and I probably could have replaced six through ten with any number of others. What should I do with Revanche, Two Lovers, The Girlfriend Experience, The Informant!, (that's two good movies from Soderbergh this year), Forbidden Lie$ (jaw-dropping mendacity), The Headless Woman (Lucretia Martel gets better and better), Duplicity, Still Walking, Coraline, Drag Me to Hell (I love a horror film that can make me laugh), Sugar (Fleck and Boden are a force to be reckoned with), The Hurt Locker, The Escapist, Public Enemies, Afterschool (an amazing debut), Import Export, Jerichow, The Limits of Control, Extract (yes, Mike Judge, thank you very much), Lorna's Silence, Bronson, The Beaches of Agnes, The Brothers Bloom (quite enjoyable, interview here), Liverpool (that's too pools on my radar, ponty and liver), Roy Andersson's You, the Living_, Alexis Dos Santos' "_Unmade Beds":http://www.pastemagazine.com/blogs/festivus/2009/01/sundance-2009-young-romance.html, The Messenger, etc, etc.
It was that kind of year. I even liked Bruno, which was just as good as—or maybe better than—Borat. John Waters is right. Did I overrate something this year? Maybe. Away We Go isn't sitting well, even though I came out quite positive. I'm not sure why all of the parts that I didn't like are sticking in my head but the rest aren't. I'll need to see it again to figure out what happened. But not today.
More Categories
To see my favorite performances of 2009, favorites films of the decade, and other categories that are subject to change at a moment's notice, check out the rest of my ballot at indieWIRE. And peruse the others while you're there. I've gotten several leads on more good films just browsing the survey results. And check out Paste's group list here. Happy viewing.
Others Tagged With