Film Friday: Your Favorite Movie Was Snubbed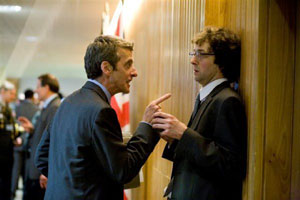 The schoolyard taunt of the digital age is "you lost all credibility when…."
It's heard following every ten-best list and every set of award nominees. I mention it now because we're entering what the trade journals have taken to calling award season. Like butternut squash, these awards ripen at the onset of winter, and this year I'm detaching my home from the grid and running it solely from a loss-of-credibility turbine mounted on my roof. Don't worry about me; I'll be toasty all season long.
The Gothams and the National Board of Review of Motion Pictures both announced their award winners last week to celebrate independent films and all films, respectively. They're among the first in a rash of such events that spring forth at the end of every year. And, oh my, I hear they've snubbed somebody. The film community is clutching its pearls at the indignity.
If you're wondering how someone giving an award to a filmmaker could constitute a snubbing, let me break it down.
The Gothams gave their top prize to The Hurt Locker, and Lou Lumineck of the New York Post says, "Many observers thought the Gothams' credibility was damaged this year because the critics' panel that made the nominations snubbed Precious, an acclaimed drama about an abused teenager in Harlem."
Tom O'Neil blogging at the Los Angeles Times says the Indie Spirit awards, whose winners wont' be announced until next year, have lavished nominations on Precious, "thereby addressing the ridiculous snub by the other, rival prize for independent films, the Gotham Awards…."
And indieWIRE headlines the National Board of Review's results like this: "Up in the Air leads NBR Winners; Precious Snubbed."
Oh dear. How could this happen?
I actually like awards, and I like the lists that are put together by my favorite cinephiles even more. I like the idiosyncrasies and the personalities. (I even embarked on a survey of year-end lists last year before getting bogged down with other things.) And of course I've made them myself.
Mostly, I like the way lists challenge my own way of thinking or expose the clear limits that physic place on my view of the film world. Even as someone who sees hundreds of movies each year, most of them in theaters, I can't begin to watch everything. Nobody can. You can't even see a fraction. Award bodies get around this with rules: nominees must have played in a theater in New York in the calendar year, is one common one. But even that list can be pretty darn big, so most of them shunt the foreign language films off to the side and focus primarily on movies made in Culver City, California, for example. Outside of those environs, you're foreign.
I like lists and awards when they direct me to movies I haven't seen or sometimes haven't even heard of. And I like it when they highlight movies that I saw but undervalued—it's always interesting to hear what a smart film viewer likes about a movie that I dismissed. And if I were playing the "you lost all credibility when" game, then I'd have to dismiss Jacques Rivette when he praised Showgirls and dissed Hou Hsiao-hsien, Stanley Kubrick, and Michael Haneke, three of my faves. Except for one thing: he's Jacques Fucking Rivette, legend and master. And even when he's so, so wrong he's still a little bit right, I have to say. And at least he made me smile.
We're saturated with information, so I'm glad people are filtering, reducing, and editing the vast selection of movies down to a few that they like the best. Tom O'Neil thinks it's absurd that "rival" award bodies in New York would take such diametrically opposed views on top films, but to me it's "the height of absurdity" to think they should somehow be consistent, or that they should be building a gradual consensus toward the Mighty Oscar whose eye sits atop the pyramid of awards. Thank goodness the Grammys exist, or else nobody would have a reason to write a song. I'm glad all roads point to the Oscars, or else visual media would collapse on its face, purposeless, mired in chaos.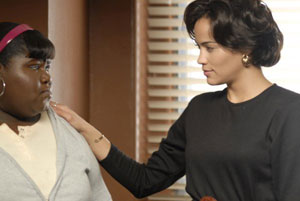 It's strange to think that of the thousands of movies made in a year, the natural and obvious favorite would be Precious. Some may think so. I think it has some nice qualities alongside its movie-of-the-week histrionics, but it wouldn't crack my top 50.
A year's good movies are like several hundred needles in a haystack. You found four or five of them? Cool. Let's hear what you like about them. But let's not assume this chat is the same as snubbing the other needles. If one particular needle were eight feet long and seven inches thick and therefore the obvious one to grab, then maybe you'd have a point. But even if that were the case, even if the winner were obvious and choosing another amounts to some sort of travesty, then why would we need awards in the first place? We don't need an award to celebrate gravity. Water honored as necessary to life in this year's Elemental Awards. Granite wins as the most breathable compound, thanks to a lobbying effort from the kitchen counter industry; some say the awards body has lost all credibility.
What I'd love more is for each award body to give us something different. What some may call the height of absurdity is exactly what I'd prefer: stop pretending that knowledgeable film viewers can reach a consensus about which film is the best. Stop pretending that there are "front runners" for awards, which is tantamount to admitting the game is rigged. You see, talent is broadly distributed, and so is taste, and both are wildly diverse. So I prefer to approach samplings, awards, favorites, top-tens and the like as fertile ground for discoveries. You can sit in judgement and tick off the winners with a correct, correct, incorrect, correct. Or you can hope to hear about a gem found buried in the rough and offer a few of your own if the medium is interactive. Of those two approaches, one approach is for film lovers, and the other is for lovers of something I can't quite put my finger on.
Oh dear. Now, I've ended my thought with a preposition, thereby squandering all credibility, sending it up in smoke, where it will warm my stove, burn my lights, and, thankfully, run my movie machine.
Others Tagged With