Guitar Center's Drum-Off Finals to Feature Mastodon/Tool Collaboration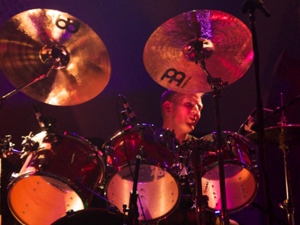 If you've ever been to a karaoke contest, you know that such a competition is filled with 1) often-impressive unknowns who likely practice a ridiculous number of hours each week and 2) big dreams. Oh, and booze, but that's neither here nor there. However, karaoke isn't the only outlet for long-shot dreamers. Guitar Center Drum-Off aims to expose the best unknown drummers in the country, in a big way. The Drum-Off Finals, going down Jan. 8 at L.A.'s The Wiltern.
Still, a marquee that reads, "Come See Great Drummers You've Never Heard Of!" doesn't have such a draw, so Guitar Center's brought in some of the best drummers you do know to play the event as well. "Bezerk," presented by Tommy Lee and Frank Zummo of Street Drum Corps, will be an exclusive all-drummer project featuring a whole melange of some of music's best skinsmen, including Chad Smith of Red Hot Chili Peppers, Matt Sorum, formerly of Guns 'N Roses, Jose Pasillas of Incubus, Abe Cunningham of Deftones, Jay Weinberg and Sully Erna of Godsmack.
And there's more. In fact, the "more" is the best part; the night will also feature a collaborative performance from Tool's Danny Carey and Mastodon's Brann Dailor, two drummers that inspire the same kind of confused awe in fans as the all-time greats, like Led Zep's late John Bonham. Speaking of Bonzo, the icing on the Drum-Off cake will be a tribute to Bonham from none other than his son Jason.
Oh, and there's that drum-off, too. Finalists will be pooled from individual-store winners, then head to district competitions, then on to regional semi-finals and then, at long last, on to Jan. 8's finals to compete for $25,000 and an additional $15,000 worth of equipment and endorsements. Maybe even more luring is the possibility of, you know, an actual career in drumming. Two past winners are now keeping the beat with Prince and Jay-Z.
Got news tips for Paste? Email news@pastemagazine.com.
Others Tagged With