High Definition: AfterSCRUBS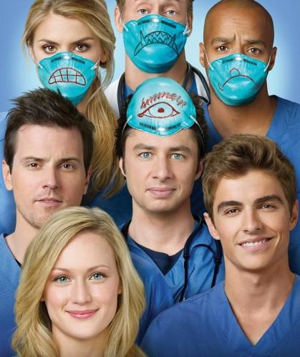 When it came on the air back in 2001, Scrubs pulled off the seemingly impossible—it was a hospital-based show that felt completely original. With J.D.'s absurdist fantasies, a sharp cast and a unique sense of humor, Bill Lawrence had created one of the funniest network sitcoms of the decade. As the characters developed over the course of its seven-season run on NBC from interns to full-fledged doctors, the accumulation of running gags and inside jokes flowed naturally: the unnamed Janitor's (Neil Flynn) schemes to torture J.D. (Zach Braff), Dr. Cox's (John C. McGinley) verbal abuse of J.D., J.D. and Turk's (Donald Faison) bro-mance. As both J.D. and Turk became fathers, the tensions of life the show explored so well gained new meaning and nuance.
It was only after a move to ABC last year, the show started to wear thin. The running gags began to feel like tired tropes, and the Sam/Diane, Rachael/Ross romance of J.D. and Elliot (Sarah Chalke) was finally resolved. Recognizing there wasn't really anywhere else to go with these characters and with Flynn getting his own ABC sitcom, The Middle, Scrubs got a reboot this year. Of the series' original seven regulars, only McGinley and Faison returned full-time, and Flynn and Judy Reyes, who played Turk's wife Carla, are particularly missed. Creator Bill Lawrence's attention seems to have shifted completely to his new show, Cougar Town. Even the old Sacred Heart hospital building is gone, with a second-rate medical school in its place, and four new cast members as med students.
The problem is, the whole production feels tired and forced, more AfterMASH than Frasier. New self-doubting, day-dreaming narrator Lucy (Kerry Bishé) is merely a mash-up of J.D. and Elliot. James Franco's younger brother Dave plays Cole, an obnoxious, selfish boor whose family gave huge sums to the hospital. Only Michael Mosely's Drew, an older student giving medical school a second try, is remotely compelling. Braff has hung around for the first six episodes, but his character only has two things left to do—act girly and beat the once-funny dead-horse that is "guy love." It's as if the writers want to make sure its dwindling audience won't be all that sad to see Scrubs' star finally leave.
The most recent episode had a storyline about J.D. and Turk going to a student's party dressed as a cowboy and an Indian and realizing how old and pathetic they've become. Another thread had the med students learning to help an old man die with grace and dignity. Here's to hoping the show will begin to take heed of its own message.
Zach Braff says his goodbyes tonight at 9/8c on ABC.
Josh Jackson is Paste's co-founder and editor-in-chief. Read his High Gravity blog or follow him on Twitter @joshjackson.
Others Tagged With