Is Sandra Bullock Bringing Back the Marquee Hollywood Star?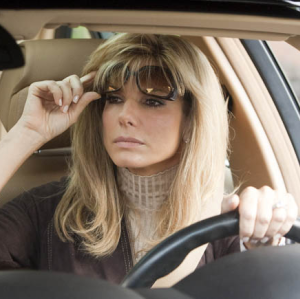 The business sense in Hollywood of late is the inability of any star, save Will Smith, to open a movie. Names like Julia Roberts, Tom Cruise, Jim Carrey—who once demanded $25 million along with profit-sharing deals with studios—are now a fleeting shadow of what fiscal power they once held.
But then The Proposal opens to $34 million in June. The lone explanation for its unexpected success? Sandra Bullock, the star of a decade of hit-or-miss movies that have often led to long-winded musing on her career. Then, somewhat jarringly, Bullock's crass parable The Blind Side opens to similar numbers against New Moon, the infallible adolescent franchise. Cut to week three, last weekend, as The Blind Side becomes No. 1 over perhaps the most anticipated movie of the year at the box office.
Is this a renaissance of the old-school star, or simply good marketing? Whatever the case, "Sandra Bullock" now is one of the most marketable names in Hollywood. This trend is curious not only because she was once splayed as the star of mediocre studio throwaways, but because her name alone seems to have elevated these clearly derivative movies into some of the best-selling titles of the year.
Granted, All About Steve, a Bullock flop this year that The Washington Post called "offensive and insufferable," made just $34 million at the North American box office. But it's difficult to imagine that Bullock's agents are having a tough time selling her name at this point. This is an industry where Christian Bale is hired by Warner Bros. for a considerable sum to open a franchise that has nothing to do with him. (He appears in barely half of Terminator Salvation, despite what the ubiquitous trailers would have you believe.)
Here it is: Sandra Bullock is a brand, and we're happy to congratulate her agents on making her one. But the idea that a single person sells movies—whether it be her or any of the other once-marquee names—is still fairly reliable. If nothing else, Bullock may have proven that a new Hollywood adage that devalues stars is premature in this trend-obsessed age when marketing campaigns still rely on well-known names to get off the ground.
Got news tips for Paste? Email news@pastemagazine.com.
Others Tagged With