John Mayer: Battle Studies
[Columbia]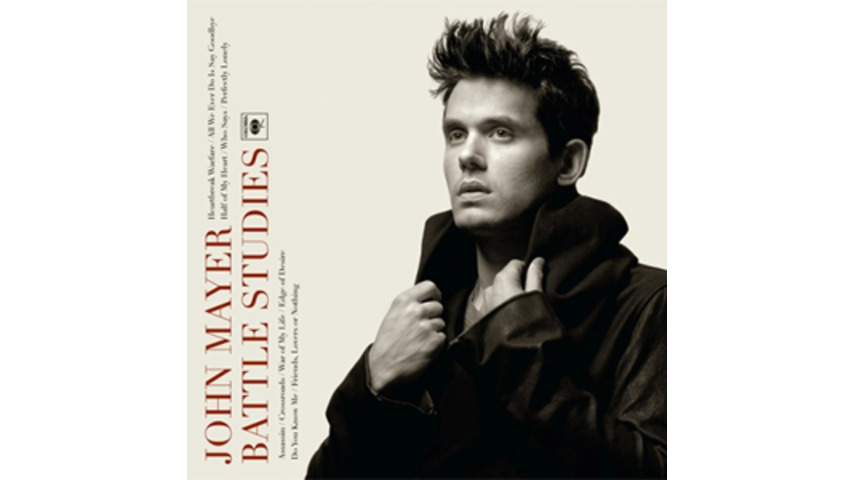 Mayer's eclectic musicianship almost makes up for pensive poetry
Battle Studies marks the fourth release for John Mayer, who enters an arena of high-riding hopes after the soul-spilling Contiuum that graduated him to the lofty ranks of someone who could shred a six-string alongside B.B. King or Eric Clapton. Mayer's albums were maturing one after the other, combining electric blues and clever songwriting, but he takes a few steps back with the lovelorn Battle Studies, a superficial meditation on the jagged down-slope of a relationship—the romantic blitzkrieg that recalls, among other genres, his early acoustic sound on Room for Squares.
With "Heartbreak Warfare," Mayer opens the record as a solder in the frontlines of a calamitous affair, and while the motif is picturesque, it soon becomes exhausted and scattered in sappy, temperamental songs, pining in the cyclic chants of "All We Ever Do Is Say Goodbye," tip-toeing through the "Assassin" sleuth story and swelling to an emotional blowout in "War of My Life," which summons angels and ghosts to duel in the unseen struggles of the heart.
This doesn't mean Mayer can't still wield a guitar like a fifth limb, fashion catchy hooks or howl a quivering, feel-good falsetto. Lyrical brooding aside, the music stirs everything from subtle country twangs in the Taylor Swift-accompanied "Half of My Heart," to deep gospel funk in "Crossroads." And the spry string plucks and chugging percussion in "Who Says" are warm enough to sell the idea of sitting at home, stoned in solitude.
Others Tagged With