Long Winters Frontman John Roderick Talks Kathleen Edwards Collaboration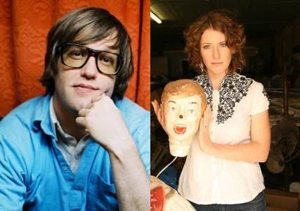 [Homepage photo by Eric Ryan Anderson]
John Roderick has waited his entire life to have his own home studio, to serve as yet another way for him to make music on his own terms. But when he finally got that studio, he began wishing for an authority figure. "I've kinda worked really hard to get to a place where no one can tell me what to do, you know," the Long Winters frontman tells Paste. "That's been my goal for my whole creative life, to get to a place where nobody's the boss of me. And now that I'm there, I've realized that I need a manager."
Roderick realized that to finish the follow-up to 2006's Putting the Days to Bed, he could use a "last little kick in the ass," after stating in 2008 that it would drop in 2009. What he got instead was singer-songwriter Kathleen Edwards, though, thanks to her, Long Winters fans should soon expect a lot more from Roderick than they originally bargained: a new song, a new Long Winters album, and a new collaboration album from he and Edwards.
Edwards initially established herself as a younger Lucinda Williams with her 2003 debut Failer, and the comparison still rings true two studio albums later. But in hopes of changing directions, if only slightly, Edwards asked Roderick a few months ago if he could help steer the way. Roderick agreed, prompting Edwards to fly from Ottawa to Seattle to see him. "[Edwards] has a pop sensibility and doesn't want to spend her whole writing career in the, not small, but confined world of alt-country female singer-songwriters," Roderick says. "So she wanted somebody to work with that is more to speed in the pop tradition. And that excites me a lot."
Once she arrived, they recorded a duet version of a new Long Winters song, which will be distributed in 2010 to those who bought charity compilation GIVE Seattle. They also took a trip down to Portland, where they performed a few shows together, visited a few friends, and wrote some songs at Portland's Ace Hotel, a session Roderick likened to "a scene from a Wes Anderson film."
Much like when the Long Winters were first establishing themselves with The Worst You Can Do Is Harm, the encouraging words Roderick and Edwards received soon turned into offers to contribute to the album, from Laura Veirs and Tucker Martine, to Death Cab for Cutie's Chris Walla, to the Minus 5's Scott McCaughey. "The whole adventure had just taken a life of its own where everybody, all these friends that we bumped into and talked to, all said, 'Oh my god, how exciting! You guys are making music together. I'd like to be a part of it," Roderick says.
Motivated by the outpouring of positive support, Roderick plans to quickly finish up the pending Long Winters record next year so that he can move along with the collaboration record with Edwards. "I feel like the two of us together are going to write some songs and make some music that's greater than the sum of its parts," he says.
Got news tips for Paste? Email news@pastemagazine.com.
Others Tagged With