Nelson Mandela Endorsed Morgan Freeman 15 Years Ago for Invictus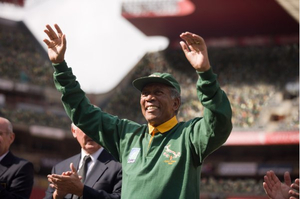 Clint Eastwood's Invictus, out today, chronicles the real-life story of the 1995 South African rugby team's underdog race for the World Cup, and President Nelson Mandela's efforts to heal his post-apartheid country by forging a relationship with the star of the team. Morgan Freeman plays Mandela, and Matt Damon plays the rugby MVP, Francois Pienaar.
Eastwood has directed multiple Oscar-nominated films, and he took home the statue for his direction of Million Dollar Baby and Unforgiven. He also has a successful working relationship with Freeman, having directed him in both of his Oscar-winning films.
Still, no amount of Oscars are as good as getting a sign-off from Mandela himself. Freeman has long been in contact with Mandela, having wanted to make a biopic of his life for many years. And 15 years ago, coincidentally, right around the time that this rugby championship took place, President Mandela gave Freeman his blessing.
According to ComingSoon.net, at a press conference 15 years ago, when asked who Mandela would want to play him in a film version of his autobiography The Long Walk to Freedom, the president stated that he would like Freeman. The actor then began a decade-long acquaintance with the leader shortly after his statement. But it took him many years to craft the right script to tell his story, finding it difficult to fit all the events of Mandela's life and political career into one film.
Freeman wasn't just able to talk to the South African president. Freeman explains, "During that time, I would sit and hold Madiba's hand. Now that's not for camaraderie. I find that if I hold your hand, I get your energy. It transfers. I get a sense of how you feel. That's important to me in trying to become another person."
The connections paid off. Early reviews praise Freeman's incarnation of the leader's physical movements and speech patterns, perfectly encapsulating the spirit of Mandela in a way that previous actors have not accomplished. As Eastwood asserts, "Morgan has the same presence when he walks in the room as an actor that Mr. Mandela has as a politician walking into a room."
Eastwood was also Freeman's first and only choice to direct the film. The actor sent the finished script, which he had honed with producing partner Noreen Gale, to the iconic director in the hopes that he would agree to helm the project. This pairing will almost certainly prove to be a good idea. Early reviews not only praised Freeman, but Eastwood's unquestionable ability to tell a wonderful story in this film.
Got news tips for Paste? Email news@pastemagazine.com.
Others Tagged With