Marvel Announces Girl Comic Series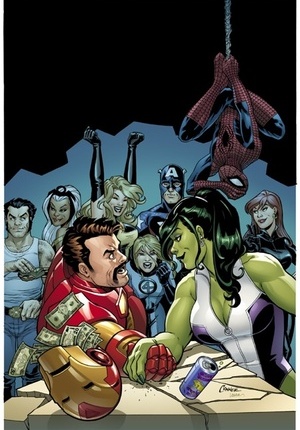 Although Rogue, Jubilee and Storm have long proven that female superheroes can kick some ass in a male-dominated comic-book universe, Marvel hopes to establish the same rightful place for its female artists.
The company is striving to do this with Girl Comics, a three-issue anthology miniseries project that places women solely in charge of all aspects: writing, drawing, coloring, everything. Girl Comics contributors include Marjorie Liu (Dark Wolverine), Devin Grayson (Nightwing) and G. Willow Wilson (Air), names that have garnered more attention with the increasing popularity of San Diego's Comic-Con.
"My original hope with this was to show that women in comics are already creating just as diverse a range of stories as men," Girl Comics editor Jeanine Schaefer told Publisher's Weekly. "I think the characters and the stories will draw in just as many men in as women, and will get people thinking that good comics aren't all about the gender of the writer or artist."
The first Girl Comics book, out March 2010, will focus on the first series appearance by She-Hulk (pictured), though the series in its entirety will focus on superheroes of both genders. "I asked for pitches like, 'If you could do anything, what would you do?'," Schaefer told Marvel.com. "Some women wanted to focus on female super heroes and some women didn't. We have a Punisher pitch. We have a Mary Jane pitch. A Nightcrawler pitch. Ann Nocenti is doing a Typhoid Mary story and she was one of the creators of Typhoid Mary. Not all women like the same thing. But this is a comic by women for people who like comics."
Got news tips for Paste? Email news@pastemagazine.com.
Others Tagged With