Latest Beatles Biopic, Lennon Naked, to Air on BBC Four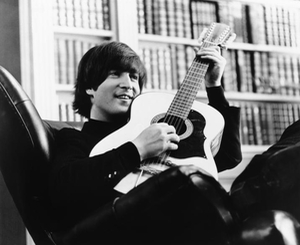 Although the Beatles have always been an intrinsic and ubiquitous part of global pop culture and 20th-century music history, their re-emergence in the past few years in various media has reached an unprecedented fever pitch. Artistic or commercial products like Beatles Rock Band, reissues and anthologies, and movie treatments of the iconic band have been piling up as of late, to say the least.
Case in point, in the past couple years, three different biopics centered on Beatles history have been announced. One is A Life in the Day, about late Beatles manager Brian Epstein, who was often called the "fifth Beatle" and who died of a drug overdose in 1967. The second is Sam Taylor Wood's Nowhere Boy, focusing on John Lennon's musical beginnings and teenage years forming the Beatles in Liverpool.
Finally, the most recently announced is the new BBC film Lennon Naked, which will revolve around the years 1967-1971 when the Beatles were at the climax of their fame and success, but the cohesion of the band was beginning to erode. The film will also focus on John Lennon's disintegrating marriage to wife Cynthia and his budding relationship with Yoko Ono, as well as his coping with the death of Epstein.
The cast will feature Christopher Eccleston, of popular sci-fi TV series Doctor Who and recent biopic Amelia, as Lennon. Naoko Moria (TV's Absolutely Fabulous) will play Yoko Ono, Claudie Blakley (Gosford Park, Pride & Prejudice) will play Cynthia Lennon, British actor Rory Kinnear will play Epstein, and Irish actor Andrew Scott will play Paul McCartney. The film was written by Robert Jones, who penned the BBC political drama Party Animals.
Lennon Naked is being produced by BBC Four films and is intended to air only on TV, although this medium should not mislead viewers about the quality of the film, BBC spokespeople say. Richard Klein, controller of BBC Four, asserts, "BBC4 is the place where dramas… [shed] light on the artistic process while offering intelligent entertainment." The film is set to air on next year, and is being filmed in London by Blast! studios, which won a BAFTA for its 2008 film Hunger.
Got news tips for Paste? Email news@pastemagazine.com.
Others Tagged With