New David Foster Wallace Short Story Surfaces in The New Yorker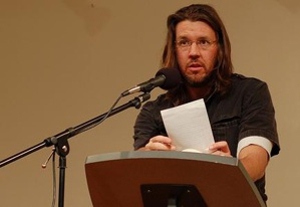 [Photo by Steve Rhodes]
If David Foster Wallace wasn't the best writer of the last few decades, then his scraggly hair and sly grin certainly sit high up on the list. "Genius" isn't a word to be thrown around lightly, but how else to describe Wallace's brand of writing? Perfectly caustic (yet somehow gentle) wit, deeply probing, explorative in terms of human nature, undeniable humor, the descriptors go on.
He wrote without abandon, and in a way, that's the subject of "All That," his short story debuting posthumously in The New Yorker, the latest in a string of stories to do so. The issue hits stands on Dec. 14, but you can read the story now here.
The brief fiction piece explains how closely tied religion and the childhood sense of magic are; both require full commitment and unfaltering belief. Writing as a narrator reviewing his childhood obsession with catching a magic toy in action (the result of his parents' joke), Wallace is recognizably wonderful, his familiar use of footnotes (in this case, parentheses) hitting like a familiar old friend.
Of childhood magic, he writes: "This is why it is that adults and even parents can, unwittingly, be cruel: they cannot imagine doubt's complete absence. They have forgotten."
Got news tips for Paste? Email news@pastemagazine.com.
Others Tagged With