Paul Thomas Anderson and Philip Seymour Hoffman Reunite for New Movie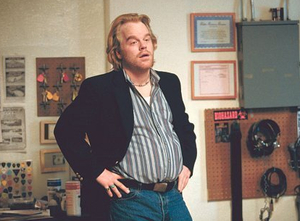 Fans of Paul Thomas Anderson and Philip Seymour Hoffman alike can rejoice. For their fifth film together, Anderson wants to cast Hoffman in the lead role for the first time ever. As Variety reports, the film still awaits a greenlight at Universal with a $35 million budget, pending Anderson's finished script, but it sounds like a signature Paul Thomas Anderson project: provocative and culturally probing.
The just-announced, as-yet-untitled film will center on a man known as "the Master," as in the charismatic Master of Ceremonies of an upstart religious organization that gains a cultural foothold in 1952 America. The Master forges a bond with Freddie, a young drifter who takes a leadership role in his organization, but who comes to have second thoughts about the validity of the teachings and the moral fiber of the Master himself.
The new film is in many ways a thematic continuation of Anderson's last movie, There Will Be Blood. As Cigarettes and Red Vines (via @crabfood) astutely points out, Blood dealt with the issues religious beliefs and values, questioning morality and organized religion. On top of that, Anderson dealt in Blood with the everyday, mundane corruption of American life of the past, and though this new film is set a century later, it seems he will continue to explore issues of community, morality and religious values. And of course, as with the Master and Freddie, Blood presented several significant but problematic paternalistic relationships among its key characters.
Previously, Anderson has cast Hoffman in small or ensemble roles in four different films: Sydney (a.k.a. Hard Eight, 1996), Boogie Nights (1997), Magnolia (1999) and Punch-Drunk Love (2002). Hoffman currently stars in Pirate Radio, Richard Curtis' feel-good nostalgia-fest about 1960s music out now in U.S. theaters. Frequent Anderson producer JoAnne Sellar will also reunite with the writer-director on this film.
Got news tips for Paste? Email news@pastemagazine.com.
Others Tagged With