Salute Your Shorts: James Cameron's Xenogenesis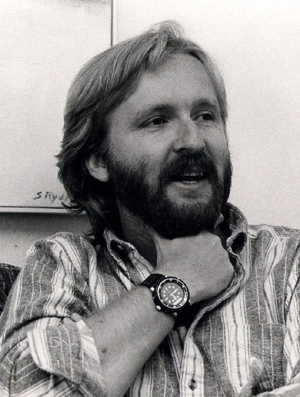 Salute Your Shorts is a weekly column that looks at short films, music videos, commercials or any other short form visual media that generally gets ignored.
Before James Cameron became a fabulously successful feature-film director, and long before he inexplicably became a mediocre nature documentarian, and long, long before his triumphant return to feature filmmaking, he was a truck driver. This doesn't have too much bearing on anything, but it's good to keep some sense of perspective on things. Sure, the man's movies have made well over a billion dollars in theaters alone, but his rags-to-riches tale is one of the true American Dream—err, it would be, if he weren't Canadian. In any case, we've all got to start out somewhere, and with Cameron, that "somewhere" involved driving a lot of trucks.
But something happened in 1977, not just to Cameron but to the nation at large. No, not Jimmy Carter taking the reigns of the country and leading it into four years of smart energy conservation as "History's Greatest Monster." Star Wars, later subtitled A New Hope, came out and made science fiction ever-so-briefly cool again. Cameron saw the movie and realized that perhaps truck driving wasn't, in fact, his calling. He quit his job, wrote a short script (such as it was), and almost inconceivably talked his way into $20,000 worth of funding (from a consortium of dentists looking for a quick tax write-off, no less) for his film "Xenogenesis." According to another, more apocryphal story, the consortium of dentists were actually a group of Freemasons looking to begin experimenting in new mind control methods with Cameron…but those claims are probably not entirely true.
Shortly after he completed "Xenogenesis," Cameron joined up with that paragon of cheap cinema, Roger Corman, and learned his trade the old-fashioned way, beginning as a special-effects supervisor and gradually rising through the ranks until he took over Piranha II: The Spawning. But the James Cameron who was found suitable to take over that movie and soon afterwards put together his breakthrough with the independently produced Terminator was not the same James Cameron who directed "Xenogenesis." Three years separated his first two directorial efforts, and it would be another three before Terminator made its way into theaters.
Others Tagged With