The Thermals Talk New Album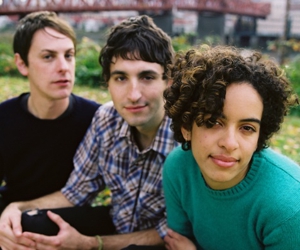 Hutch Harris, mouthpiece of power-punkers The Thermals, isn't feeling so friendly toward love these days. Since forming in 2002, his band's never shied from weighty issues; 2006's The Blood, The Body, The Machine was a musical headbutt to overwrought religious fanaticism, and this year's Now We Can See is filled with some serious political undertones. But on The Thermals' forthcoming fifth album, Harris takes on arguably the heaviest topic of all: the heart.
"It's hard to be in love with someone. If there's a theme to this record, it's that," Harris tells Paste, calling from Portland. "A lot of the songs are pretty brutal lyrically. It's really negative thoughts about love and relationships."
With the working title Double Negative (Harris is still trying to win over bandmate Kathy Foster on the name), the record will be released Sept. 7, 2010 on Kill Rock Stars. Right now, though, The Thermals are knee deep in new music, having just finished the first of two week-long sessions in Portland studio Jackpot! Recording with producer—and Death Cab for Cutie guitarist—Chris Walla.
The Thermals have long played down and dirty rock 'n' roll with a minimalist attitude: simple melodies, catchy hooks and power chords abound. But with a full-time drummer in Westin Glass, and the band recording as a trio for the first time since 2004's Fuckin A, Harris is looking to expand the punky sound he's spent years perfecting.
"I'm trying to make a record that sounds different than the last. Or really, the last four," Harris says. "As a guitar player, I'm trying to get into more riffs, away from the Ramones-power chord thing that we do. So there's a lot more space on this record."
But don't expect Double Negatives to be some lush, chamber-pop album—Harris hasn't strayed too far from his simple, guitar-rock roots. "I like that Phoenix record a lot. Bill Callahan was my favorite of this year. I liked the Grizzly Bear album," he says. "But, really, more than anything in the past two months I've been listening to Thin Lizzy and ZZ Top."
Got news tips for Paste? Email news@pastemagazine.com.
Others Tagged With