The Thermals and Thao Announce February Tour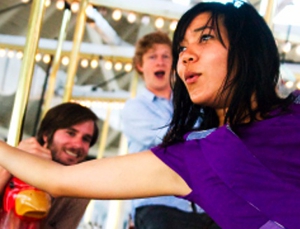 In one of the more adorable things written by a record label, Kill Rock Stars recently said, "We love our bands and it's the best when our bands love each other." We at Paste feel the same way, especially when those bands are The Thermals and Thao with The Get Down Stay Down. (On a related aside, the latter just received our #15 album of year honors. Look.) The pair will be touring down the coast of California in February together, a six-date jaunt that'll include some killer power-pop jams, a whole lot of dancing and, apparently, a whole lot of love.
Both bands have had exciting years in 2009; The Thermals released the miniature epic of power chord proportions Now We Can See early on, and Thao put out the exquisite and aforementioned honor-bestowed album, Know Better Learn Faster, this fall. What's more, The Thermals are currently in the middle of recording another album for release in Sept. 2010, those busy bees.
Check them out on the Left Coast in February:
February
5 – San Francisco, Calif. @ Great American Music Hall
6 – Santa Barbara, Calif. @ Velvet Jones
7 – Solana Beach, Calif. @ Belly Up Tavern
9 – Costa Mesa, Calif. @ Detroit Bar
11 – Los Angeles, Calif. @ Troubadour
12 – Berkeley, Calif. @ UC Berkeley – Lower Sprout
Got news tips for Paste? Email news@pastemagazine.com.