Todd Goldstein Talks Harlem Shakes Breakup, Solo Project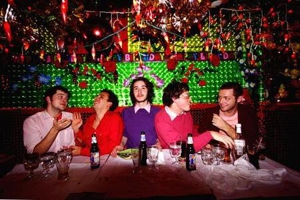 Before their mid-September breakup, Harlem Shakes had made themselves known for sounding hopeful in bad times. Illness within the family inspired the singalong choruses and Latin-flavored beats of their full-length debut, Technicolor Health, and, despite having their equipment stolen, the band still managed to win over D.C. fans when they opened for Passion Pit, with a performance slightly more acoustic yet just as uplifting.
And so with one EP, Burning Birthdays, and Technicolor Health as evidence, Harlem Shakes appeared as if they were just getting started. (After all, Paste did call them one of the this year's Best of What's Next, following their previous Band of the Week honors.) But as guitarist Todd Goldstein sees it, Harlem Shakes simply could not go on—at least, not as a group.
"Harlem Shakes broke up, even in the midst of all the good stuff that was happening, because it just didn't make sense to continue," he tells Paste. "Everyone wanted different things—which, in some cases, involved giving music up altogether—and the center just couldn't hold. How do you continue playing in a band when no one wants to tour anymore? It just doesn't work, and it felt like a waste of everyone's time to continue."
Goldstein is now concentrating fully on his solo project, Arms. Although he crafted most of his debut, Kids Aflame, alone in his Brooklyn bedroom, Harlem Shakes keyboardist Kendrick Strauch has helped him perform it live, with no hard feelings.
"We're all still great friends and are collaborating and playing on each others' new records and everything—we're just not a band as the five of us any more," Goldstein says. "It wasn't an easy decision for any of us to make, but it was, without question, for the best."
Got news tips for Paste? Email news@pastemagazine.com.
Others Tagged With