Win Cormac McCarthy's Typewriter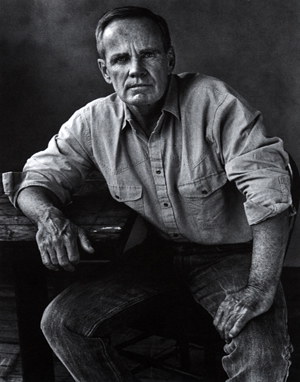 Cormac McCarthy has a charmingly old-school method for penning his Putlitzer Prize-winning work, considering the ever-more-digital age in which it's published. It all happens on a rickety, old Olivetti typewriter, one that he bought in the fall of 1958 for $50 at a pawnshop in Knoxville, Tenn. That's right, No Country For Old Men, The Road, Blood Meridian, All the Pretty Horses and The Crossing were all clacked out like gunshots on the very same machine.
Now his use for it is coming to a close, but instead of junking it like many of the machine's counterparts, he plans to auction it off this Friday and donate the proceeds to the Santa Fe Institute, a nonprofit interdisciplinary scientific research organization.
The auction will take place through Christie's Fine Art Auctions, according to The New York Times. They expect to reel in about $15,000 to $20,000 on the exhausted antique, on which McCarthy churned out a brief letter of authentication. It reads:
"It has never been serviced or cleaned other than blowing out the dust with a service station hose. … I have typed on this typewriter every book I have written including three not published. Including all drafts and correspondence I would put this at about five million words over a period of 50 years."
McCarthy isn't changing his writing method anytime soon, either. In fact, his friend and colleague John Miller bought him another Olivetti to replace his beloved. "He found another one just like this," McCarthy told The Times from his Santa Fe home. In fact, the lucky find was close to brand new. "I think he paid $11, and the shipping was about $19.95."
McCarthy has been using his architecturally-trained eye to help rebuild the 1950s rambling house where the Santa Fe Institute is situated. His particular focus is in upgrading the library.
Got news tips for Paste? Email news@pastemagazine.com.
Others Tagged With