24 Review: "4:00 p.m. - 8:00 p.m." (Episodes 8.1 - 8.4)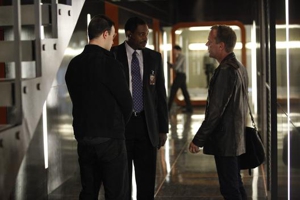 It makes you wait forever for new episodes, bypassing the entire fall season, but damn--when it finally does crash through, 24 takes its sweet time. That's a good thing. Four hours of heart-pounding adrenaline injected into two back-to-back nights.
We last left the legendary Badass Bauer mellowing out with religion on his deathbed after being exposed to a deadly pathogen. After making his peace with a Muslim cleric he shook up only a couple hours earlier, Kim, his daughter, swoops in last minute to let the doctors use her in an experimental treatment that could save his life. We can only assume it worked because, well, here we are beginning Day Eight. And surprise, surprise: Jack is not dead!
It's all become a bit predictable and formulaic—Jack unsuspectingly gets dragged into thwarting a terrorist plot that lasts exactly 24 hours—but the show has distilled TV drama into pure entertainment. Simplicity at its finest. The new season begins with an ultra-rare glimpse into Jack's domestic life. He's happy, he's retired, he's a grandpa and he's about to move from New York City to Los Angeles with his daugther's family. Your mind begins to wander, imagining an entire day of Jack smiling and playing with his granddaughter. Crises involving Jell-O squares before lunch and a battle royale over the TV remote ensue before a bewildered Jack finally shovels the kid off to her rightful owners.

But that day will have to wait, for today there's assassination attempts, backstabbing scumbags, nail-biting close calls and...Freddie Prinze, Jr.? The old teen heartthrob has returned. And his character, CTU field agent Cole Ortiz, is actually much cooler than expected. In a matter of minutes he speeds in front of a world leader's car to absorb a bomb, chases down the would-be assassin and then, just when you think said villain has our newfound hero under his thumb, Cole basically forces the guy to pull the trigger. Lucky for him, Jack is quicker.
So what do we have so far? U.S. President Allison Taylor (returning from last season) and President Omar Hassan from an unnamed Middle Eastern country (let's call it "Iran") are hashing out a nuclear peace agreement at the U.N. The proposed resolution and portrayal of the young moderate president are quite optimistic considering what the world actually has to put up with, but there's still no shortage of fanatics doing everything in their power to ensure a peace deal doesn't happen. Leading the charge is the president's brother, who bears a slight resemblance to Jason Schwartzman (circa Bored to Death) and who helped orchestrate the aforementioned assassination attempt on his brother's life. Now that he's on the run, we discover he's cozied up with a Russian mob syndicate to acquire enriched uranium.

It's a pretty standard 24 setup, but if we've learned anything about this show it's not what, but how. Story? Not important. Execution is everything. Keep us at the edge or our seats wondering aloud if President Hassan will live or die and we'll be happy. By now, we're keen to most of the tricks, knowing the innocent suckers who comply with terrorists will usually get popped in the head. But there's always that possibility with the bigger events, and the writers masterfully exploit that race against time to the fullest.

In the fourth and final hour of the premiere, a familiar Season 7 face makes her entrance. Except now the sun has faded and the cute has subsided in the lonely, suicidal world of Renee Walker as we see a psychopathic monster Jack helped create. Let go from the FBI after nearly torturing last year's baddie to death, Renee returns all depressed and tragic a la Tony Almeida to go undercover upon CTU director Brian Hastings' request. Turns out she has all kinds of experience infiltrating some of the Russian pigs connected to the assassination attempt. We're not sure how unhinged she is until seduces and saws off the thumb of a contact. You know it's bad (and truth be told, kind of amusing) when even Jack expresses shock.

Good call, though, bringing back Renee. Her return gives Jack his much-needed foil. Is she good? Bad? Why is she agreeing to go undercover for the government without compensation? And most importantly, how far will she go? Again, it's a pretty basic hallmark of the franchise, but it works for the simple reason it keeps us all talking and guessing.

Other early kudos: Chloe O'Brian is back. Janis Gold (played by Janeane Garofalo) is not.

Others Tagged With