Catching Up With... Dark Void's Senior Producer Morgan Gray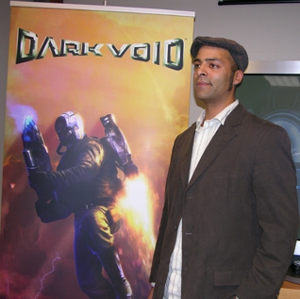 Morgan Gray is no stranger to the videogame industry. He began his career testing for LucasArts, then moved to Totally Games as a designer on the X-Wing vs. TIE Fighter series, as well as Star Trek: Bridge Commander, and later as a Project Coordinator on Secret Weapons over Normandy, again with LucasArts. After joining Crystal Dynamics to work on Project Snowblind, he joined the Tomb Raider Legend team as the producer. Most recently Gray has been working for Capcom, serving as the Senior Producer on Dark Void, a third-person shooter that incorporates the Bermuda Triangle, Nikola Tesla, jetpacks and a bloodthirsty robot cult. Paste recently got an opportunity to chat with Gray about his latest project, the most popular dude in voice acting and why he's ironing his "big-boy pants" as a precautionary measure.
Paste: What sparked the idea for Dark Void's story?
Gray: We actually started off by focusing on gameplay goals first. We knew we wanted to combine cover-based ground combat with in-air jetpack dogfighting. Eventually we got the idea of vertical combat being a sort of in-between gameplay layer that tied the experiences together. After getting things moving on screen in a way that was promising we realized that we needed a very exotic location as a backdrop for the action. From there it was a hop, skip and a jump away from going with an alien dimension as our setting, and what better way to reach another dimension than to be lost in the Bermuda Triangle. The ideas began flooding from there: having Tesla warp there to be the brains behind your brawn, alien abduction conspiracy, a quest to get back home, etc.

Paste: The game is set in the mid-20th century yet incorporates alien weaponry and other sci-fi elements. A number of titles in recent years have explored the design possibilities of retro futurism—BioShock, Fallout 3, etc. What was it about that aesthetic that appealed most to your team?
Gray: We felt that the retro pulp look would be a better match for our storyline than going with a contemporary look. We set out to build an action romp in terms of gameplay. Lots of action—high-flying, daredevil-type stuff. The pulp era was a perfect setting for that sort of two-fisted, super science-type action. It was also a strong force in terms of our art direction. Also it fits rather well when you take into account the sort of found-object technology we have Nikola Tesla cooking up.

Paste: While working on the game, were you aware of the so-called "Rocket Man" Yves Rossy from Switzerland who's made headlines for crossing the Alps and the English Channel, soaring on a jet-powered wing? If so, did you make any attempt to talk to him about his experience with that kind of flight?
Gray: Oh yes, we stay well versed concerning all jetpack related activities throughout the world. It was actually discussed several times, but due to legal/business/financial reasons it never really moved past the meeting room discussions. That dude is one gutsy guy! As much as I love my virtual jetpacking, I'm not sure I'd drop off a plane with a wing on my back and go for it.

Paste: The jetpack segments of Dark Void introduce a really fresh flying experience. Describe the challenges of creating and fine-tuning that aspect of the game.
Gray: The biggest challenge for us is that we don't have "ground levels" and "flight levels." The action takes place in the same environments. This was a massive undertaking, as we really had to push the engine to handle the streaming, AI awareness, and numerous other technical bits. It was like embracing the challenges of making two games crammed into one! So yes, creating the play spaces and enemy routines was the biggest challenge...guess we know why there haven't been a lot of jetpack games in the past.

Paste: With actor Nolan North's voice so closely associated with Nathan Drake of the wildly popular Uncharted franchise, was there any concern that his voice work for Dark Void's main character would be distracting for some players?
Gray: Nolan is everywhere now, isn't he? When Nolan was cast and voice was recorded he was less popular, but yes, as time moved on we had some concern that perhaps our character might feel a little too familiar to some. That being said, he was still the best fit to bring Will to life, and I'm grateful for his contribution in helping craft the experience of Dark Void. That guy is a fantastic talent.

Paste: What aspect of the game is your team most proud of?
Gray: I think the thing we are all very proud of is creating a game experience that really blends air/ground in a seamless way, with controls that don't require additional fingers be attached to the human hand. Playing Dark Void feels fresh while at the same time staying very familiar in terms of controllability. When I switch to playing other run-and-gun games I often find my thumb searching of the jetpack button. Seriously.
Paste: In making a game this ambitious, there are always going to be ideas that end up on the cutting room floor. If you'd had more time and/or resources at your disposal, what discarded idea would you have most liked to see end up in the final game?
Gray: I don't like talking too much about things that didn't make the game because sometimes those things have a way of coming back in sequels or DLC...but there were a few enemy types I would have liked to see us get up and running for the main game, as I think they would have been pretty fun to fight.

Paste: The promo blurb for Ben "Yahtzee" Croshaw's ever-blistering Zero Punctuation review series reads, "See why gamers love it and developers fear it." Does the prospect of Yahtzee reviewing Dark Void make you queasy at all?
Gray: I think almost everyone in the industry enjoys Zero Punctuation, so we'd all agree that it would be awesome to be the target of his brand of "critical review." Of course I would make sure that I came prepared with my big-boy pants on—the ones with the armored crotch, nice and ready for the kicking.
Paste: Any idea what type of project you'd like to tackle next?
Gray: My next project will be sleeping…and finally getting a chance to play other people's games!
Others Tagged With