Cold War Kids Frontman Nathan Willett Talks New EP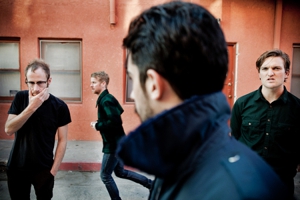 Chateau Marmont, a Los Angeles getaway modeled after a royal villa in France's Loire Valley, encourages visitors to channel "your inner Howard Hughes, your Greta Garbo, your Jim Morrison." Even as a resident parking attendant, Nathan Willett wanted to do just that. "I was working with a bunch of guys who all wanted to be actors and musicians," he tells Paste. "We're all valet parking, trying to make connections, trying to find our way in this world."
Little did the one day Cold War Kids frontman know that he'd feel the same way seven years later. In fact, even though the Fullerton, Calif., rockers have released two studio albums (Robbers & Cowards, Loyalty to Loyalty) and played a few more festivals (Austin City Limits, Sasquatch!, Voodoo Music Experience) since then, their Behave Yourself EP (out now on iTunes and on CD Jan. 19) indicates they are still trying to find their way. "What we wanted as a band was kind of ambiguous, and we were just in a place where we weren't sure where we wanted to go with it," Willett says of the time spent making last year's Loyalty. "We're proud of the songs in that record, but where we came out of that was having a much stronger direction and realizing where we needed to go."
What led the way were songs that cast a few moments of light when the band created the darker, moodier Loyalty. Willett grappled with all that he felt during his days at Chateau Marmont for about a year, before he finally summed them up in what became Behave Yourself's opening piano stomper, "Audience," "a song for the lonely person who wants more and knows they're brilliant in a way that only they can see their own inspiration," Willett says.
Yet thanks to the self-led guidance of the EP's four songs, plus the help of engineer Jacquire King (Kings of Leon, Norah Jones, Modest Mouse), the band knows that its intentions will become much more clear in its third studio album, out summer 2010. "Knowing that we're going to go through a more ambitious project for this next record, we wanted to kinda put out this EP for the good old days," Willett says.
Got news tips for Paste? Email news@pastemagazine.com.
Others Tagged With