Flixster Acquires Rotten Tomatoes: Could This Be the Nail in the Site's Coffin?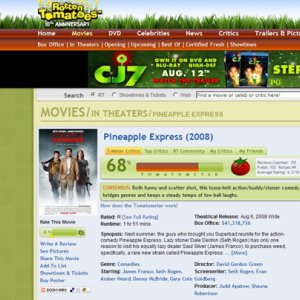 Rotten Tomatoes emerged over the years as the Google of movie-review aggregators, the "Tomatometer" often used synonymously with the critical pulse. But with the recent sale of the site to Flixster, a film social-networking site best known for its Facebook app, it's hard not to wonder if the brand can withstand the changes ahead.
Of course, to many readers, Rotten Tomatoes' stock as the chief review sampler has long been in question. The site takes a liberal approach to whom it considers a "critic," while rivals like Metacritic.com sharply limit the writers who can be quoted. (Metacritic, for a recent example, quoted 35 reviews for Avatar. Rotten Tomatoes offered more than 200.) As a property of IGN, the site has in recent years also had a discernable fanboy slant, with a particular enthusiasm for blockbusters in the news and forum features.
To be sure, there are also upsides to its populist approach. There is inherently more diversity of opinion, and in many cases the site also gives young film writers a greater voice. This writer, for one, has benefited from it.
According to Variety, IGN's decision to sell Rotten Tomatoes comes from an internal effort to rebrand itself as a male-centric news source. Flixster's acquisition comes on the heels of its topsy-turvy popularity among users on other social-networking sites.
Although Flixster has announced no plans for the site yet, its social-networking specialty is clear. There's also no doubt that IGN's culture seeped into Rotten Tomatoes, and even before it purchased the site, Flixster and related sites had already led Rotten Tomatoes to bolster its forums that allow users to make "friends" whose own movie reviews they can track. How long will it be before that becomes the site's principal source of traffic—and therefore its focus?
Whether or not that's a bad thing is a good question. But consider that Rotten Tomatoes remains the colloquial go-to for critical consensus, even if it's been a while since that's strictly true. (The "Top Critics" section, which aims to filter the most influential opinions on the site, feels like more of an afterthought than ever.) What happens when people go to Google.com and the first thing they see isn't a search field? Let's hope Rotten Tomatoes doesn't give us the answer.
Got news tips for Paste? Email news@pastemagazine.com.
Others Tagged With