High Definition: Chuck—The Best Music on TV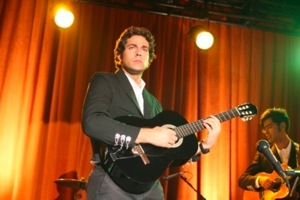 Chuck managed to avoid the axe after its second season, an impressive feat for an NBC show these days. It's a fun show—the story of a regular guy who gets U.S. intelligence downloaded into his brain and becomes the government's most valued secret agent. He bumbled his way through two seasons before an upgrade gave him the ability access the knowledge of kung-fu, Russian or boxing, all Matrix style. Season 3 has also kept things fresh by putting Chuck Bartowski's brother-in-law, Awesome, in the role of reluctant spy.
But what I love most about this show is how fantastic the music always is. It's no real surprise since co-creator Josh Schwartz also created The O.C., a nighttime soap opera that helped bring indie rock into the mainstream with Death Cab for Cutie, Modest Mouse, The Walkmen, The Killers and The Thrills all performing at its fictional Bait Shop venue. Together Schwartz and music supervisor Alexandra Patsavas created a new way to premiere a single—through narrative TV.
In its very first episode of Season 1, Chuck included music from Gomez, The Shins, Beck, Journey and Ennio Morricone. The National, Gnarls Barkley, Band of Horses, Matt Pond PA, The Fratellis, The Eels, Gogol Bordello and, of course, two songs from Hall and Oates followed. Even the theme music by Cake was great. Season 2 looked a lot like my personal Best of 2009 list with Okkervil River, two Frightened Rabbit songs, The National, and just about everything Bon Iver has recorded, including "Bloodbank." Chuck even beat Paste to the punch on Local Natives. There's no show that has me more often going to Midomi's SoundHound or Shazam on my iPhone to find out what song just accompanied a fight scene or a quiet encounter by the courtyard fountain.
Season 3 just began, and they've already played Pains of Being Pure at Heart, Imogen Heap and The Dandy Warhols. And last night I heard Spoon and discovered Sam Sparro. This is music that I still only rarely find on the radio. And even after two years of watching Chuck, I'm shocked to hear them on TV. That surprise—of hearing Brandi Carlile in the background of ads for The Deep End or Radiohead on House—will eventually wear off as its becoming more common. But I tip my hat to Mr. Schwartz for helping pave the way. And for spreading good music to the masses.
Josh Jackson is Paste's editor-in-chief. He writes about TV on Tuesdays and about music, beer and whatever else is on his mind the rest of the week at Paste's High Gravity blog and in shorter bursts on Twitter.
Others Tagged With