Mark Mothersbaugh Talks New Devo Album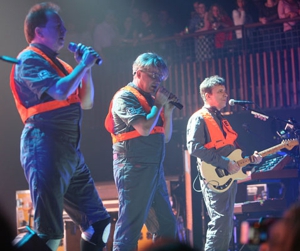 [Photos by Mark C. Austin]
More than 30 years have passed since a group of unorthodox dudes from Akron, Ohio released the iconic new-wave record, Q: Are We Not Men? A: We are Devo! And though frontman and founding member, Mark Mothersbaugh, has remained a vital musical force, scoring a slew of movies and TV shows, and writing subversive commercial jingles, Devo has largely remained silent for the last 20 years.
But that silence will soon break. Devo is currently finishing its first album of new music since 1990's Smooth Noodle Maps. "It's got quite a bit of form, and unless we were to all of a sudden have an about-face, we've got it pretty much 90 percent or more nailed down," Mothersbaugh tells Paste. "We kind of did some bold things with this record. You talk about what's changed in Devo over the last 30 years—I think something that's changed is a somewhat more sophisticated approach to music and different tools that allow us to voice ourselves in ways that we didn't do back in the day."
Different tools weren't the only change, however. As he prepares to turn 60, Mothersbaugh admits that today's Devo has quite a bit of life experience over the band he started in his twenties. "We were little kids back then, you know?" he says. "Now we're like damaged old men. We fought with the record industry, and the entertainment industry and with life in general for quite a few years. So, things are definitely different, but at the same time, the interesting thing is I think our perception of what Devo was and what Devo was about is fairly intact."
Mothersbaugh says the album has no title yet, and while he has toyed with the idea of leaving it untitled, he says, "We probably won't opt for that." He's also avoiding being too specific about what kind of music the album will contain but says it started with an urge to go back to the group's roots, and ended up becoming a modern re-imagining of those roots. "I had this strong desire to make 12 songs that sounded totally interchangeable with our first or second album," Mothersbaugh says. "But then, after we started writing things, and that's the first place that they went to, we were kind of like, 'Well, let's think this out more,' and they became more modern. We decided if we were really true to Devo, and Devo just started today, we wouldn't be doing music that was historical."
For a band that has always been more concerned with the future than the past, this approach makes a certain kind of sense. Even so, Mothersbaugh feels the new record might shake up some longtime fans. "I'm sure we're going to have our fair share of Devo fans that are shocked by the record," he says. "But, we're also hoping that we're going to connect with people that wouldn't already be the choir. It's an experiment for us."
Got news tips for Paste? Email news@pastemagazine.com.
Others Tagged With