Great Expectations 2010: Michael Haneke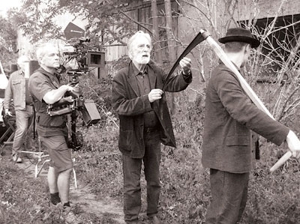 The Tormenter Returns with Cannes Prizewinner
A Michael Haneke film is always an event. Each one incites an onslaught of parking-lot conversations, angry blog posts and endless fast-forwarding and rewinding when it hits DVD. Which is why the revelations and evasions of 2010's The White Ribbon are so exciting: They promise to provoke more passion than ever.
Known for the haunting Caché and The Piano Teacher, 67-year-old Austrian rabble-rouser Haneke won the Palme d'Or at Cannes for his new period picture, set in 1913 and 1914. The White Ribbon chronicles the shocking violence that terrorizes a quiet German village: A horse trips over a wire hung between two trees, injuring the town's doctor; the farmer's wife falls through a barn's rotted floor; a disabled child is brutally tortured. These events plague the villagers while mystifying and disturbing the audience.
Arguably Haneke's most elegant film to date ("My other films are elegant, too," the director tells Paste, at once wry and dead serious), Ribbon is filmed in gorgeous black and white. "We know the period from photographs, which make it easier to understand," he says. But this is Haneke, so the aesthetic also provides what he calls "an element of abstraction." The White Ribbon is so full of resonant images—ink-black forests, snowy fields, bales of hay—that the beautiful, sensual experience often seems the point. Haneke, of course, disputes this: "The beauty of nature is useful for contrast," he says. And that's that.
It's true that every ravishing tableau reminds us of the village's cruel, disturbed adults—and, more pointedly, their offspring. Children are the dark heart and cold soul of this calmly portentous film. (What, you wonder, might these German kids do 25 years later?) The children's activities will compel arguments among friends long after they've left the theater. Indeed, Haneke has already anticipated those disagreements: "I always like," he says, "to nourish a sense of mistrust toward the filmic reality."
Others Tagged With