Paranormal Activity Makes Paramount Take Notice of Micro-Budget Films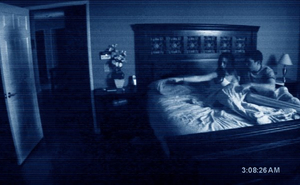 Call it the decade's Blair Witch Project. Horror movie on a shoestring budget Paranormal Activity has grossed more than $100 million at the U.S. Box Office since its theatrical release in September, and so far it has grossed $34 million internationally. Meanwhile, it's production budget was an astonishing $15,000.
Numbers like that are hard to ignore. Especially when the global recession has hit even the biggest movie studios very hard.
Paramount Pictures is one studio that has taken notice. Adam Goodman, president of the studio's film group, announced recently that they will be launching a new division in the company to foster the production of films made for less than $100,000, costing an estimated $1 million annually, paid for out of Paramount's existing production budget. The studio plans to finance up to 20 films per year, beginning in 2010.
Paramount's unusual approach to these "micro-budget" films has some caveats. They will not acquire completed films from film festivals and they do not plan to release every film in theaters.
Instead, reports the L.A. Times, they will purchase screenplays, rewrite them, and in some cases, turn them into movies. Paramount plans to target both established filmmakers and newcomers with this pitch.
The strategy is not exactly carte blanche for indie filmmakers to get their movies made. But at least a major player is taking notice of the smaller-budget films that have earned at the box office this year, especially during such an economically hostile time for small-time filmmakers and artists.
Watch the trailer for Paranormal Activity:
Got news tips for Paste? Email news@pastemagazine.com.
Others Tagged With