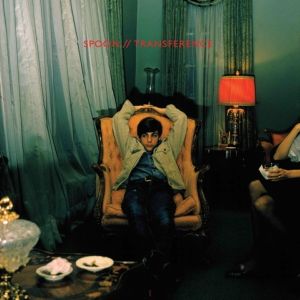 Spoon strips down—a little—on seventh album
How do you follow an album like Ga Ga Ga Ga Ga? Released in 2007, Spoon's sixth full-length was both its most challenging and successful album to date. The Austin band indulged its every studio whim and bolstered its antsy sound with fuller percussion and Memphis-style horns. Songs like "The Ghost of You Lingers" and "Eddie's Ragga" were discursive experiments, and even the catchiest tunes had subdued hooks. The album was a slow burner that sounded both wildly inventive and professionally succinct, revealing new mysteries while gaining urgency with each listen. It was an unlikely record on which to build a career, but Ga Ga Ga Ga Ga debuted within in the top 10 on the Billboard 200 and introduced the band to a new, and much wider, audience.
Spoon's rise seems similarly improbable. After releasing its debut, Telephono, in 1996, the band signed to Elektra and readied a follow-up. Despite its astute rethinking of punk and post-punk influences, and despite the easy-sell hooks of "The Minor Tough" and "30 Gallon Tank," the label botched the release, inspiring a seething revenge track about their A&R man. Spoon then spent the 2000s proving that living well is the best revenge: Each subsequent album on the independent Merge Records sired a larger audience and elevated the band's profile. In 2005, Gimme Fiction actually courted a mainstream audience, and Ga Ga Ga Ga Ga made good on that promise, although the irony of the single "The Underdog" couldn't be missed: Even after they'd broken through, the members of Spoon still considered themselves the challengers, never complacent incumbents.
Spoon continues an impressive run of albums with its seventh, Transference—more austere than its predecessors but just as scrappy. Jettisoning the horns and pervasive studio-as-instrument approach, the band hasn't sounded this raw in more than a decade. An impassioned and unpredictable singer, Britt Daniel changes his approach on every song, shredding his vocal chords on the rough-textured "Written in Reverse" and peppering "Trouble Comes Running" with woos and oohs. He favors repetition as a means to reinforce and undermine his lyrics, slyly dropping out consonants from words and words from phrases. Singing in an R&B-ish falsetto on "Who Makes Your Money?" he puts so many different spins on the title phrase that by song's end, it could mean anything or nothing at all.
Daniel's slightly hoarse vocals fit neatly into Spoon's larger matrix, delivering texture as much as lyrical meaning. Transference emphasizes the antagonistic interplay between instruments, including the vocals—it's a tension that has always grounded Spoon's music. One of rock's unsung drum heroes, Jim Eno, pounds out deceptively simple rhythms that keep time tightly and tensely. He favors the hi-hat and kick drum on most of these songs, bolstering the crackle of opener "Before Destruction," the soul-revue bass line of "The Mystery Zone" and the glam-disco of "Nobody Gets Me But You." Rather than click into place with Eno's steady motorik framework, Daniel's guitar and Eric Harvey's keyboards kick against it, scribbling and scrawling against the orderliness that underpins "Got Nuffin" and "Is Love Forever?" Yet they lock step into the headlong instrumental coda of "I Saw the Light" as if it's a hand-wringing "Layla" devised by some gloomy Krautrock band.
Such gimme-friction moments jostle against quieter tracks like the measured "Out Go the Lights" and the startlingly tender "Goodnight Laura," which features Daniel accompanied by a piano theme that sounds like a Billy Joel demo. Spoon has always mixed these soft elements into its twisted guitar rock—Joe Jackson is just as much a spiritual guide for the band as Wire—and on Transference, these opposing urges toward frantic momentum and earnest melody create a sense of settling in; not complacency, but something like contentment. In fact, the album's final half makes a stab at directness, both musical and lyrical. "I got nothin' to lose but darkness and shadows … got nothin' to lose but emptiness and hang-ups," Daniel sings on "Got Nuffin."
Of course, this being Spoon, these songs only suggest openness, when in fact they're as dodgy as anything the band has ever written. "Got Nuffin" implies a newfound freedom from all those dark thoughts, but it also insinuates a nadir, as if they're rebounding from their lowest point. Likewise, glammy closer "Nobody Gets Me But You" conveys an ambivalence toward accessibility and acclaim: "No one gets what I'm doing, everyone else seems to look through it," Daniel sings. "Oh, but maybe I never wanted them to, couldn't count on it anyway." To reinforce his point, the band peppers the song with disruptive snippets—truncated crowd cheers, industrial buzzing, stray piano notes—as if daring you not to get it.
While the bandmates sound like the veterans they are on Transference, Spoon brings to this new level the same prickliness and elusiveness that has informed all of its previous albums, and that has attracted devoted fans intent on parsing every word and note. Despite the success (or maybe because of it), Spoon is still making music deep in the mystery zone.
Others Tagged With