The Artful Dodgers: Santigold & Vampire Weekend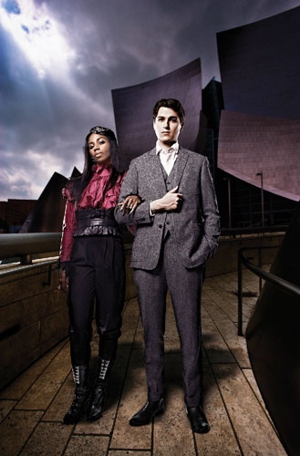 Page 1 of 2
They sidestepped convention with genre-jumping debut albums. So what now?
He's a boy and she's a girl. He's white, she's black. Tall, petite. Cerebral, bubbly. Hey, we could do this all day!
Much more interesting, though, is how much Vampire Weekend frontman Ezra Koenig and Santigold mastermind Santi White have in common—their shared fascination, for example, with the rhythms of the African diaspora. Their love for spiky melodies. Even their upbringing. Koenig, 25, and White, 33, took their Northeastern childhoods as opportunities to explore the full gamut of culture. They got enough of New York and Philadelphia to acquire an effortless urbanity, and enough of the suburbs to explore the various all-American high-school subcultures. Koenig devoured his parents' record collection ("My mom had lots of classical music and folk, and my dad had lots of blues, but he also really had all the best new music up until 1984, which is the year I was born") while White alternated between skater culture and hood chic, rocking out to both Nirvana and The Pharcyde. White and Koenig both eventually went to brainy universities, then wound up in NYC and made two of 2008's most original records—records that treat music as a post-racial, post-genre art form. "Nobody in our band," Koenig says, "and nobody I think almost anywhere, really reflects just plain-old rock 'n' roll anymore." Certainly he and White do not. Their music toys with musical orthodoxy, scrambling punk aggression, Jamaican mellowness, literary sophistication and hip-hop cool until the distinctions become complementary.
Today both artists are here in a Manhattan photo studio, dressed in Dickensian attire for our Great Expectations issue covershoot. It ain't just a clever literary conceit: Anticipation is frothy for Vampire Weekend's sophomore disc (Contra, due out in January) and for Santigold's second album, which will come out, uh, she's not really sure. "I think the label thinks I will have a record out in 2010," White says, squirreled away in a back room with a smoothie. "Maybe that will happen. If I don't have a record out, I'll have something out in 2010."
For a pair of arty, unconventional musicians, Koenig and White both enjoyed surprising success the first time around. Santigold opened for Coldplay just three months after releasing her self-titled debut album. And only five months after dropping their own self-titled debut, Koenig and his college buddies in Vampire Weekend performed their single "Oxford Comma" before some 40,000 people at the Glastonbury festival. "That's a song that we played at our very first show," Koenig says, "which was in the basement at Columbia for this battle of the bands. And the contrast couldn't have been more extreme. That felt like entering a whole different world. But then after doing festivals all summer, we got used to it."
I first meet Koenig before the photo shoot on a glorious New York City morning. The air outside carries an invigorating autumnal nip. We're upstairs in a cavernous space above the Meatpacking District; there's yogurt on a catering table, granola, The New York Times. Music plays, various assistants scurry. Koenig is wearing a blue work shirt, dark jeans and high-top Nikes. He has floppy hair, arched eyebrows, long limbs and apple cheeks. He resembles a young, lanky Dan Aykroyd.
We find a quiet place to talk, a lounge done up like a hipster hunting lodge: hardwood floors, brick walls, a chess set, a Newcastle tap, a rack of antlers. Koenig sits on a tufted leather couch and fields my questions with unusual care. He's a thinker. At least once, he rests his elbow on his knee and his head on his fist, as though sculpted by Rodin.
"I definitely expected a lot less than actually happened," he says. We're discussing Vampire Weekend, a record of melodic curlicues and sinewy grooves, a 21st-century indie-rock disc indebted to the analog textures of Afro-pop. "I think we had very modest goals," he adds. Like quitting their day jobs, and maybe one day—if they were lucky—playing The Bowery Ballroom, a New York venue with a capacity of less than 600. As it turned out, "We played Bowery Ballroom two nights in a row for our album-release party. So I guess the day the album came out, I basically had achieved one of my major goals."
If Koenig hadn't envisioned success, Kris Chen had. Chen, the senior vice president of A&R for XL Recordings, is the talent scout who signed Sigur Rós and Thom Yorke to the label—and also the man who snatched up Vampire Weekend after discovering the band on MySpace. "I loved it," Chen says, "but when I really thought about the band and looked at them I just thought, 'I think a lot of people could like this.'" And a lot of people did. Vampire Weekend sold 476,000 copies Stateside and almost a million worldwide.
Which brings us to Contra. "I knew that if we made an album that sounded very similar to the first album, it would 100-percent be the same but worse," Koenig says. Then again, "I thought another goal of ours had to be to not abandon the first album, 'cause I thought that would've been equally pathetic, to pretend that now we're a dubstep band or to pretend that, 'Oh, that music that we listened to then—that was like a trend, we're not interested in that anymore.' I thought that would've been totally dishonest."
The trick, in other words, was to sound like Vampire Weekend but not Vampire Weekend. If everyone thought the first record resembled Paul Simon's Graceland, then the new one is more like The Rhythm of the Saints as played by The Specials and produced by Yo-Yo Ma.
The retooling process started with percussion. After recording the drums on their first album in a friend's Brooklyn basement beneath the F train, the band wanted beefier rhythms. So for Contra, they spent two days at Avatar Studios—where "Like A Virgin" was recorded—focusing exclusively on drums. Keyboardist and producer Rostam Batmanglij also laid down a metric ton of synthesized beats, and Brazilian percussionist Mauro Refosco chipped in with marimbas, rebolo and zabumba. As a result, the new tempos and textures vary wildly. The halting, six-minute "Diplomat's Son," which samples scatting vocals from Sri Lankan rapper M.I.A., chugs along with an arrhythmic heartbeat. The drums on "Giving Up The Gun" sound like sneakers banging around in a clothes dryer. "Cousins" feels like an attempt to set the record for world's fastest ska tune. "California English," another breakneck sprint, is so fast that on early mixes drummer Christopher Tomson could be heard panting.
Others Tagged With