Todd Snider, Director Talk Score for Sundance Film Homewrecker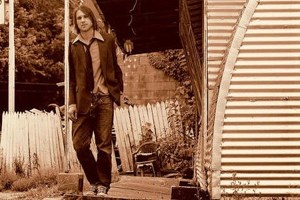 Todd Snider is hitting the road in five days. Touring, especially down I-35, is nothing new to the Margaritaville Records protégé with more than a dozen records to his name. But as he performs in Texas this time around, filmgoers attending this year's Sundance will also be checking out Snider in his film-soundtrack debut. How does this make him feel?
"I'm wearing a beret right now," he tells Paste, laughing. "I'm also not wearing a shirt, and I'm on my front porch."
In truth, despite his penchant for writing about rambunctious characters, the clever singer-songwriter has helped set down-to-earth tone for Homewrecker, which debuts today at the festival. The first feature-length Sundance submission by directors (and brothers) Todd and Brad Barnes, Homewrecker is a romantic comedy that follows both a prisoner trying to turn himself straight and a girl who unexpectedly derails his attempts. "I was excited that I was interested in this guy and girl, and I thought for sure that the girl was probably crazy," Snider says of his first viewing.
The film marks the third time in eight years in which Snider has worked with the Barnes brothers, Snider's "Stuck All Night" music video being the first and Peace Queer: The Movie the second. "The kind of inspiration came from movies that we loved from the '60s and '70s, like Harold and Maude or The Graduate, where they had one artist basically do everything on the soundtrack," Brad Barnes says. "That always appealed to us because of how it provides consistency and, you know, just that kind of flavor throughout. And so we thought, wouldn't that be great to do a whole movie with Todd?"
In addition to select songs from Snider's entire discography, Homewrecker features improvised instrumental songs on guitar, banjo and harmonica—the end result of a four-hour jam session in Snider's hometown of Nashville. "All the places he wanted music where there wasn't like a song—ten times he was like, 'do do do do do,' you know, that kind of crap—he would tell me what he wanted, and I would sit there and fiddle with the guitar until he got what he wanted," Snider says.
"It was fun for me to watch, because I had never had that kind of studio experience, watching a musician just come up with stuff," Barnes says of their time spent together. Yet as the filmmakers bask in the excitement of fresh experiences, Snider has no other plans but to tour as he's done for years. "I would like to study songwriting for about five years and learn," he says. "I would like to take the time and learn some shit."
Watch the official trailer for Homewrecker, featuring music by Snider:
Got news tips for Paste? Email news@pastemagazine.com.
Others Tagged With