A.C. Newman Talks Upcoming New Pornographers Album, Together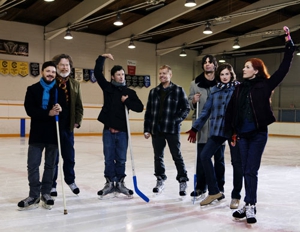 [Photo by Jason Creps]
Before the 2000s began, A.C. Newman wondered if he and the rest of his New Pornographers stood a chance in the music industry.
"I remember, we would take smoke breaks from practicing, and then I remember somebody playing Belle and Sebastian—If You're Feeling Sinister or The Boy with the Arab Strap—and thinking, God, these guys are so good, and we fucking suck," Newman, the band's principal songwriter, tells Paste. "I remember thinking it was so demoralizing, and I was like, Why do we even try?"
Of course, Newman kept trying. And thanks to his perseverance, spitting out albums every 18 months or so, he's become one of Matador's most dependable songwriters and the New Pornographers, one of the decade's most prevailing examples of how a supergroup should exist. Together, out May 4, is the next step for the band.
Challengers, the band's 2007 release, was also Newman's most autobiographical, covering his then-recent move to New York and finding the woman he would soon marry. But in the tradition of the band's older material, Together removes Newman a bit from his own life—even though he didn't stray far from the band's mainstay locations of Vancouver and Brooklyn, or even his new home in Woodstock, N.Y., to record.
For example, Newman penned "My Shepherd" specifically for Neko Case to sing after watching the 2007 documentary Crazy Love, which tells the story of a woman who returns to her husband years after he threw acid in her face. "It made me want to write a really dysfunctional torch song," Newman says. "You know, that kind of Dusty Springfield-style torch song, but with kind of upsetting lyrics."
At times over the years, Newman would find himself fixated on word combinations or even specific chords, simply because of how they sound. This time, however, he was initially inspired by a drum beat. "The first germ of an idea was that I wanted a song that started like "'New Day Rising' by Hüsker Dü," he says of "Up in the Dark," another Together song. "Just that pbt pbt, that big snare beat, to the extent that I even wanted to start the album like that for a while, just as a tribute to 'New Day Rising' and one of my favorite albums."
In another song, the band tried to combine Black Sabbath's "War Pigs" with ABBA's "Waterloo" and Siouxsie and the Banshees' "Christine." If that sounds confusing, you're not the only one having trouble envisioning the new album's sound. "[Fellow songwriter] Dan Bejar wrote me something where he said he thought [Together] sounded like [2000's] Mass Romantic crossed with Challengers, and I'm like, I guess that might be true as well." Newman says before pausing. "Although, any combination of our albums may be true. I think it's Electric Version crossed with Twin Cinema, myself." Then he pauses again. "I don't think that, actually."
In addition to its many notable, older influences, Together includes contributions from several modern-day musicians. When Newman wanted a guitar solo, producer Phil Palazzolo called up St. Vincent's Annie Clark, having just recorded with her. When Newman needed one last trumpet part, he called up Beirut's Zach Condon. And when Newman contemplated adding an additional backing vocals, Okkervil River's Will Sheff suddenly showed up to the studio. Together, indeed. "When [Clark] was playing, I was thinking that this is almost too easy," Newman says. "When you're trying to figure out a great guitar solo, all you have to do is call her up and she'll show up and do it. I definitely feel lucky that way, on top of just everybody in the group. We've got a singer [Case] who had a number three record last year. It all seems kind of absurd sometimes."
But even though he's reined in Case for a number of albums and shows over the years, and even after Challengers led to an all-time Billboard high for the band (#34 on the Hot 200), Newman still refuses to give himself too much credit, deferring instead to his talented friends. "Ted Leo did some percussion on a song, but it was a song that we dropped off the album," he says. "We should have given him the percussion credit anyway. At that point I was just trying to throw in as many indie-rock celebrities as possible into the mix. I even thought of just calling up Ben Gibbard and going, 'Hey Ben, can we just say you're on the record?'"
Got news tips for Paste? Email news@pastemagazine.com.
Others Tagged With