Best of What's Next: April Smith and the Great Picture Show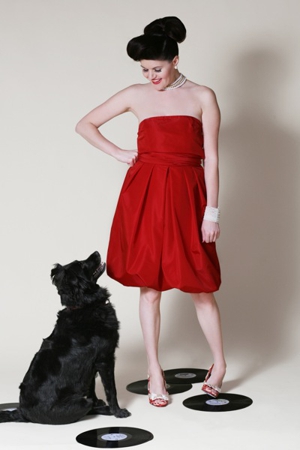 Hometown: Brooklyn
Album: Songs for a Sinking Ship
Band Members: April Smith (vocals, guitar), Elliot Jacobson (drums), Brandon Lowry (keyboards), Marty O'Kane (guitar), Stevens (bass)
For Fans Of: Amanda Palmer, Neko Case, The Andrews Sisters
Judging from some tracks on her new album Songs for a Sinking Ship, Brooklyn singer/songwriter April Smith is quite the burlesque bad girl. Verbally smacking down the competition for her man's affections ("Dixie Boy") and confessing to sins apparently too atrocious to mention ("Terrible Things"), Smith takes a ride into the annals of vintage Mason-Dixon pop, packing a sound full of sassy hooks and swinging rhythms.
When I meet her at a generic SoHo deli on an early December afternoon, it becomes clear that the real April Smith is far less confrontational than her music suggests. The first sign is when she whips out her camera to play a video of her border collie, Scout, hamming it up before a bath. And the enthusiasm with which she explains converting her band's old tour bus to run on alternative fuel confirms it. "You have to make sure the engine and injection pump are willing to run on vegetable oil," Smith says over egg sandwiches before heading to a charity gig for an eco-friendly clothing line. "It's definitely a labor of love."
A devout vegetarian with a contagious smile, she's definitely more Southern Comfort than Wild Turkey, but she revels in the melodramatic, TV-inspired whimsy she concocts with her four-piece band, The Great Picture Show. "Terrible Things," for example, is actually an ode to Dexter, the Showtime series about a morally ambiguous serial killer. "I'm a huge TV addict—it's really bad, especially when it's cold out," Smith says. "I'll only go outside to walk my dog, and the rest of the time, the TV's always on." Law & Order, Californication (which recently licensed "Terrible Things" for its online promos) as well as shows and books about historical shipwrecks round out her suitably noir pop-cultural interests.
Smith's megaphone optimism remains front and center throughout the tumultuous old-timey jams on Songs for a Sinking Ship, recorded with the $13,000 she raised last year via website Kickstarter. "If you're going down, you may as well have a smile on your face," she says. "If times are bad, at least we're having fun."