Best of What's Next: Givers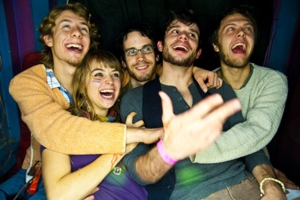 Hometown: Lafayette, La.
Album: Givers EP
Band Members: Kirby Campbell (drums, vocals), Taylor Guarisco (vocals, guitar), Will Henderson (keyboards, samples, saxophone, flute, vocals), Tiffany "Teddy" Lamson (vocals, percussion, ukulele, guitar), Josh LeBlanc (bass, trumpet),
For Fans Of: Dirty Projectors, Mates of State, Vampire Weekend
Feel-good Louisiana quintet Givers packed a lot into 2009. In October, less than a year after its first live show, the face-painted, feather-bedecked band was drafted to tour with arty darlings Dirty Projectors; that coup was followed shortly by the release of Givers' self-titled debut EP, which zydeco label Valcour Records broke genre-ranks to distribute.
It's easy to see why: Givers' drove of multi-instrumentalists make delightfully breezy, lucid-dream pop, Will Henderson's keyboard whirling away while Josh LeBlanc's Dixieland horns rough up Kirby Campbell's steady Afro-pop drums. Standout EP track "Ceiling of Plankton" recalls the oddball sugar of The Soft Bulletin-era Flaming Lips and proves the young band knows how to experiment without abandoning danceable melodies or life-affirming lyrics.
"And when you notice that your heart is bleeding, mine is bleeding, too," lead vocalists Tiffany "Teddy" Lamson and Taylor Gaurisco sing over an echo of xylophone plinks and warm cymbal rushes. Whether trading leads with Gaurisco or blending back into the harmonic haze, Lamson sounds both achingly distant and incredibly close, like Leslie Feist's kid sister after an all-nighter has left her smoky tenor cracked and courageous in all the right places.
Expect the glittery, communal, magic-schoolbus spirit of the Givers EP to remain intact on the band's full-length debut, due this summer. In the coming months, they'll take the heart-warming, booty-shaking show on the road, offering up their catchy cures for the recession blues throughout Louisiana and Texas (including a stop at SXSW). Labels are circling, but for now the band is happily independent. "We're just keeping our hearts open and letting opportunities come to us," says Lamson. "Touring with these guys and the energy of being on the road with them—I realized I could do this the rest of my life and be happy."
Others Tagged With