So, What are Björk and Michel Gondry Up To?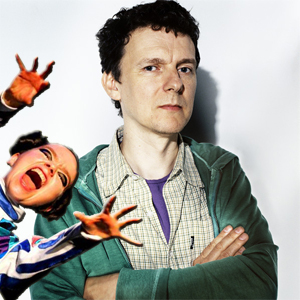 [Digital image work by Michael Saba]
Björk and Michel Gondry are hardly strangers. The pair first teamed up in 1995 for the Icelandic musician's "Human Behavior" video, and over the course of 12 years have collaborated on six more. Gondry recently hinted that the two might be plotting a new project, saying "It's very undefined, so it's hard to give more precision." While waiting on things to get a little more concrete, we decided to make a few predictions of what might be in store:
In the wake of Iceland's recent economic woes, perhaps the project will be an attempt to boost local tourism. Following in the great American tradition of cheesy tourism commercials, we're picturing Björk in meticulously applied face paint (almost undetectable in the nigh-on neverending darkness of a Reykjavík winter), showing us all of Iceland's "hot" spots. The duo's inspiration? Our own Bluegrass state, of course:
But perhaps that would be a bit too middle-of-the-road for this oddball pair. Maybe they've got their eyes on the catwalk, planning to couple Björk's iconic fashion sense (a la that unforgettable swan dress) with Gondry's affinity for all things mechanical. Picture Björk parading down a runway dressed completely in Legos, K'NEX and Lincoln Logs, taking Gondry's White Stripes video to a whole new level:
Gondry directed a season-two episode of HBO's Flight of the Conchords (RIP), a show chronicling the painfully awkward exploits of a New Zealand band trying to find fame in the Big Apple. In a possible spin-off series, Gondry may be inspired to cast Björk and another Icelander with a penchant for elaborate costumes and neon colors, Sigur Rós' frontman Jónsi. The show, tentatively titled Float of the Puffins, will follow the singers as they move to Miami and cope with the culture shock while bringing viking-inspired folktronica stateside.
Then again, maybe they're just going to do a regular old music video.
Got news tips for Paste? Email news@pastemagazine.com.
Others Tagged With