Blitzen Trapper Talks New Album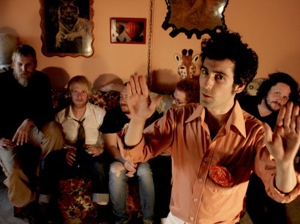 Eric Earley seems unimpressed. The songwriting brains behind Portland, Ore.'s Blitzen Trapper has just finished recording the follow up to the band's most successful record to date, 2008's Furr. It will be released on Sub Pop in June, most likely to the widest audience Blitzen Trapper's had to date. But Earley doesn't seem caught up in the moment. Instead, he sounds like a guy who goes about his business creating critically-lauded music, quietly enjoying the payoff from a distance.
Paste caught up with Earley about the as-yet-untitled new album, writing conceptual songs and the value of hard work.
Paste: Let's talk about the new album. How far along in the process is it?
Eric Earley: It's done. It just got mastered.
Paste: How is this one different from your last album, Furr?
Earley: The recording process was different. I was in a studio with a friend of ours. Normally, I record myself. I produced this myself.
Paste: Prior to this, you recorded at home, right?
Earley: Yeah, I usually record in my house.
Paste: Did going into someone else's studio change the songs or the way you write?
Earley: I think touring had more of an effect. I couldn't get any big blocks of time to just work on it, you know? So I've been recording songs between tours, and I just got a chance to finish it all in the beginning of this year.
Paste: Are there any themes that run through the work, lyrically or sonically?
Earley: There are a lot of stories on this record—narratives and stuff.
Paste: Are they stories taken from your life or ones that are just made up?
Earley: I never really write anything that's completely literal. It's all drawn from things that I've either realized, or learned or experienced.
Paste: You guys seem to be at a really interesting point in your career where you're kind of on the cusp. You've put out some albums that have been reviewed well, and now you seem poised to break. Does that mean anything to you?
Earley: Not really. I really don't know. I don't even know what it means to be really big anymore. A band like Wilco can play for 3,000 people, and a band like Snow Patrol will play for 10,000 or 20,000. There are all these different levels now and genres, and everything's really split up. I don't even think of myself as being famous. I feel like the scales of judging popularity and fame in entertainment have completely been destroyed.
Paste: Do you think that's a good thing or a bad thing?
Earley: I don't think it's good or bad. It just is. It's just the world as it is right now.
Paste: It seems to be a very interesting time to be making music, because the old rules don't really apply anymore, and no one knows what the new ones are yet.
Earley: There might not be any new ones. Bands just don't last anymore. To be successful, you have to work really hard. It seems like bands used to be able to just get by doing as many drugs and drinking as much as they can, and they'd make millions. That doesn't happen. You've got to work hard now.
Paste: Does the new album have a name yet?
Earley: No. We'll see. Not really.
Paste: How many tracks?
Earley: Twelve.
Paste: Do you write with an album in mind, or do you just write songs and then pick the ones that seem to fit together best?
Earley: I just write and record songs and everybody else decides which ones will be the records, basically. I didn't really decide on this record.
Paste: Really? You didn't decide?
Earley: Yeah, not really. [laughs] There were about 25 songs and it got narrowed down.
Paste: What will happen to the rest of those songs?
Earley: I don't know. They'll join the rest of the extra songs.
Paste: When you do a record like Furr that is well received, do you feel pressure to live up to that with the next one?
Earley: I think at points you do. But, I'm kind of the type of person who shies away from what everybody likes. A lot of the stuff I was getting into with this new record, writing and recording, was stuff that was 180 degrees from Furr or Black River Killer. But I think what ended up on the record is probably a little more compromised. I have no expectations for this record. I like a lot of the songs. I think there is a certain bravado or something to it, which I think is missing in a lot of music nowadays. I mean, the first track is like seven minutes long. It's like three or four different songs melded together into this bizarre, almost concept, thing. It's definitely different from Furr. I'll say that.
Paste: Is the whole album conceptual like that?
Earley: It's kind of everywhere. There's a lot of really tight songs, there's a lot of folk music, there's a lot of expansive, almost concept-record type stuff.
Paste: What comes next? I'd imagine a tour and the press gauntlet.
Earley: Yeah, the tour starts in May. The record comes out in June. Something like that.
Got news tips for Paste? Email news@pastemagazine.com.
Others Tagged With