The Gaslight Anthem Talks New Album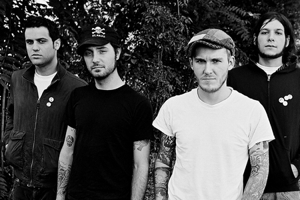 Home may be the place to hang your proverbial hat, but not for Brian Fallon.
Instead, Gaslight Anthem frontman Fallon is hanging posters and photos that he's collected while out on the road, including a 1970s snapshot of Eric Clapton with Derek and the Dominos. He and the rest of his band are now situated in the New York/New Jersey area, the latter of which being the band's home state, and a place that Fallon has discussed a lot over the past few years, thanks to a soul-punk effort that channeled Born to Run-era Bruce Springsteen and namedropped the state's Cookman Avenue and Navesink River.
Yet after returning to the very state he sings of in 2008's The '59 Sound, Fallon feels far from settled. "You never had a stationary place [while touring]," he tells Paste. "So you're getting used to going and buying eggs, and doing your laundry."
Despite the lifestyle, The Gaslight Anthem makes music for the everyman. The band's forthcoming third studio album, American Slang (out June 15 on SideOneDummy), includes songs about someone who is not "the greatest baseball player in the world" and "a doctor that cured cancer."
"American Slang is just what we do. That's who we are," Fallon says. "You're presented with this American Dream and all these American possibilities—and then there's the reality of what actually happens with your life."
American Slang speaks to what Fallon calls "surviving within your circumstances," a lesson that the album takes to heart. Now two weeks into recording, The Gaslight Anthem has been experimenting gleefully on a collection of old amps to see which childhood favorites they can emulate. "It's really exciting, because you're finding out the little secrets of the records you loved growing up," Fallon says.
The end result takes cues from Tom Waits, The Clash and The Supremes, and most of all from earlier Clapton and Rolling Stones output—British blues and rock records inspired by American ones. "It's almost like we're bouncing it back this time," Fallon says. "This [record] is really the one where we said, 'All right, well, we've got our influences. They'll speak naturally, but what do we have to say on our own? What does it feel like to put on our own shoes and clothes? What do we sound like, and what's our story?'"
American Slang's story, lyrically and sonically, focuses less on past and more on the present. Coming from the guys who were first called overlooked before Springsteen joined them on stage, the album teaches a lesson in surviving and growing in any given situation, and refusing to rest on laurels. "I think a lot of people settle, and then they realize, 'These are the things I've been dealt and I can't really do anything about it, so I'm going to go ahead and charge along,'" Fallon says. "It's not really how life is supposed to be. You're supposed to enjoy it, and you're the only one that's there to do that."
Got news tips for Paste? Email news@pastemagazine.com.
Others Tagged With