Catching Up With... Dante's Inferno Concept Artist Wayne Barlowe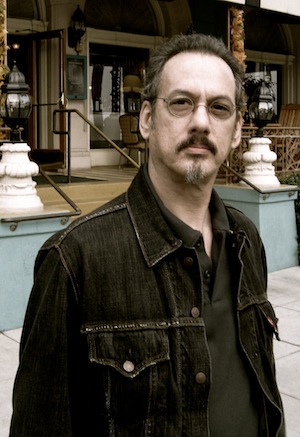 Wayne Barlowe gets paid to make your eyes pop out of your skull. The wildly talented science fiction and fantasy artist/author designed the creatures for James Cameron's Avatar. He's done concept art for a number of other Hollywood blockbusters, including Harry Potter and the Goblet of Fire, Hellboy and most recently Peter Jackson's two-part, big-screen adaptation of The Hobbit. But even though he's done reams of work for the film industry, it was his vivid reimagining of Dante Alighieri's Inferno—the appropriately titled Barlowe's Inferno—that made him the perfect candidate to work on Visceral Games' new hack-and-slash action title, which also just so happens to be inspired by the late Italian poet's masterpiece. We jumped at the opportunity to talk to him about his artistic journey into the underworld, his approach to creating the wildest mythical beasties imaginable and what we can expect from The Hobbit films.
Paste: What initially prompted you to begin the Barlowe's Inferno project?
Barlowe: I started my Hell work with a single painting and a goal. The goal was to elicit a strong visceral reaction—something I felt I had not really achieved in the years of paperback work that I had experienced. I sat down and conceived of an image that I knew would be out of my ordinary canon of images—a figure swathed in human-skin robes with a skinning knife, an image both horrific and simple in concept. I got the response I was looking for—people found it disturbing. Which I took as encouragement. Shortly afterwards, I began reading Paradise Lost and that marvelous poem provided me with so much atmospheric inspiration that I went back to it many times over the course of the years I generated my 40+ paintings and wrote my novel God's Demon.
Paste: Describe the experience of seeing your still artwork brought to life in a movie or game.
Barlowe: I am truly fortunate in that I get to see designs of characters I've worked on brought to both the large and small screens. For some 15 years, while I worked in publishing, I eyed Hollywood and the gaming world—I am a huge gamer!—enviously, hoping one day to get involved and contribute designs to those fields. Now, that I am actually doing that I have to admit to a huge degree of satisfaction. No matter how carefully one works in a 2D medium, there is nothing more marvelous than seeing things move and breathe. And, if it weren't for the amazing CG people who work to that goal, bringing to life and rendering my and other people's concepts, the designs would simply remain marks on paper.
Paste: What were the more sinister aspects of our own world that informed your artistic vision of Hell?
Barlowe: There is plenty of fodder for anyone who chooses to depict Hell. Human history is like a supermarket of injustices and atrocities, of greed and cruelty. With that said, I made a conscious choice and effort to refrain from depicting the accoutrements of any particular era, particularly figures or elements from the modern era. I felt that it would too easily date the material and take away from my attempts at a dark classicism. And so, if there are any echoes or resonances, they can be found in the rough shapes of boney heads or weapons approximating Roman helmets or gladiator's arms or the general contours of buildings being reminiscent of Egyptian or Assyrian architecture.
Paste: How much did you rely on Alighieri's Inferno for details about Hell before letting your imagination take over?
Barlowe: I was very keen on being faithful first to Dante and then to the amazing script that the game's executive producer, Jonathan Knight handed me. I have always been diligent in being faithful to source material, whether it is a movie script or a book's manuscript or, in this case, a game script. In the Dante's Inferno game script it became clear, very rapidly in the read-through, that Jonathan was being as faithful as possible to Dante while simultaneously creating a vibrant world that gamers would want to immerse themselves in. He hit all of the beats in terms of atmosphere and characters. I was hugely impressed and then as I began to draw, I tried to put myself in something of a super-charged Italian renaissance mind-set, imaging things in a way that would not have been too far from what Dante himself might have approved of. I know that's a conceit, but that concept informed my design and kept me from going to modern or too game-y in my thinking and from using my own Hell as a template.
Paste: When you're concepting original beings—aliens, beasts, demons, etc.—how detailed a sense of the subject do you have when you finally begin drawing?
Barlowe: I can come to the drawing table either with a complete notion of what I want to do or with none at all. It varies quite a lot depending upon the subject. I frequently let my pencil do the thinking. Technically speaking, I use the side of my Wolff's carbon pencil to rough in forms and in that process many abstract shapes emerge which I exploit in a design sense. Interesting solutions that otherwise might not have presented themselves come through and I find that it keeps the drawings fresh and alive. A kind of organic synthesis.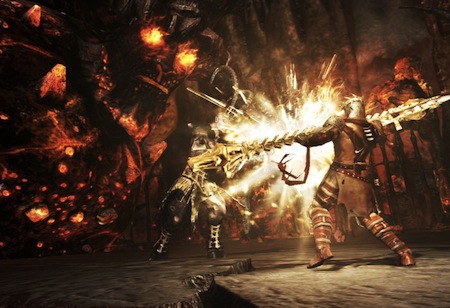 Paste: If you could go to the zoo and see a real-life version of one of the creatures you designed for the Dante's Inferno game, which one would it be?
Barlowe: For me, it would be have to be the multi-mouthed Cerberus—I had a lot of fun working him through and he is every bit as grotesque a character as I have ever designed. I would, however, hope that the enclosure had tall and stout bars!
Paste: You mentioned earlier being an avid gamer. What kind of games are you into?
Barlowe: The ones I finish! (laughs) And that is a surprisingly high number. I have had all of the consoles, PCs and now a Mac and have sought out games on each of them. I used to play primarily strategy games, as they harkened back to my childhood and the massive armies of HO gauge Airfix figures I collected, but now with my Xbox 360 at hand I play a lot of RPGs and third-person shooters.
Paste: Does your approach change at all when you're doing concept art for a game, as opposed to a film or book project?
Barlowe: Not really. To me good design is good design and the reality of a character having to move is pretty much the same in both cases. Which means, of course, that the character has to look good from all angles. There is no difference to me if that character needs to perform as an actor or as a surrogate for a gamer. And, by now, if I am designing for publishing, my methodology has become so in-grained that I apply the same techniques even if the end result is two dimensional.
Paste: Describe your experience collaborating with Visceral Games on Dante's Inferno.
Barlowe: My time with the team at Visceral was unusual inasmuch as they demonstrated an amazing level of attentive creativity. They were so interested in seeing what I would come up with and once the flow of work began the dialogues became really fascinating. Their input was so informed and their communications were so clear that a true creative symbiosis was born. Both the art director, Ash Huang, and Jonathan Knight's emails and phones calls were incredibly detailed and created, in my mind, a sense of ongoing commitment to fidelity and creativity. I think that shows in the final product. They and the remarkable team at Visceral were a real pleasure to work with. To me this was a perfect collaboration of minds and talent.
Paste: What can you tell us about your current project The Hobbit that won't get you sued and/or tossed in prison for the rest of your natural life?
Barlowe: (laughs) I only wish it were my project! And there is my unnatural life to consider, too! I can only tell you this: I had the time of my life during my summer in New Zealand working, once again, with the great director Guillermo Del Toro, Richard Taylor and his incomparable company, Weta, John Howe and Alan Lee. Together, they will make the two Hobbit movies into something that fans of the three preceding movies will love and appreciate. From what I have done and seen, the movies will more than satisfy Tolkien fans, fans of those original Peter Jackson movies and fans of GDT. Be prepared for a richness and density of world-building that will take your breath away.
Others Tagged With