Catching Up With... Tim Rutili of Califone and All My Friends Are Funeral Singers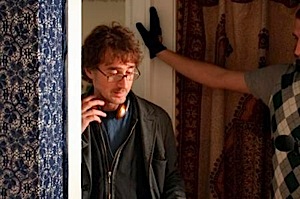 Sometimes, when you watch five movies a day at Sundance, they tend to start blurring together. But there was no way to forget the one with the live band playing the soundtrack, especially when that band was Califone. Frontman Tim Rutili directed All My Friends Are Funeral Singers, and his bandmates play some of the ghosts who live with Zel (Angela Bettis), a single woman who makes her living telling fortunes. Califone will continue to show the film off and on as part of its tour.
Paste: What gave you the idea to make a feature-length narrative film?
Tim Rutili: I knew we wanted to do a different kind of show. And then I stopped thinking about it and just started collecting these superstitions to write songs with because I figured we were going to make a record and I thought we would make a backdrop to the show. I thought we'd make a documentary. We'd be playing songs, and in between these songs people's heads would pop up on the screen and talk about these superstitions. But while I was doing this and writing these little chunks of songs with these images, a story kind of came out, and it came out like a kids story and it seemed like the right thing to do. Once it started happening it didn't stop. And everything that needed to happen just flowed relatively easily and quickly.
Paste: Did you have any film background before doing this?
Rutili: I went to film school for maybe a year as a kid, and I had directed a lot of music videos in the '90s, but I co-directed with my friend Jeff Economy, and we did videos for Mudhoney and Veruca Salt and we did maybe a dozen of these things.
Paste: Once you decided this was going to be a narrative film, what was the next step?
Rutili: Well, first was the writing. And it seemed like most of the songs on the record and the script came about at the same time. And once I had the script in shape enough for people to read I sent it out to friends who were filmmakers and Glenn Sherman our executive producer is a really close friend of mine who also helps me writing lyrics sometimes. I sent it to people that I trusted and got a lot of advice and took it from there. And once that started happening, I sent it to Chris Severtson and he said you should talk to Angela and Kevin [Bettis] about this. So I talked to them and they were into it. And I talked to people in Chicago and put a crew together and got a really good cinematographer and a really good production designer. Daryl Miller is our cinematographer and Joe Bristol is our production designer. Everything just kind of came together. And we didn't have a lot of money and we didn't have a lot of time to shoot. We finished the record first and we shot the movie about a month later.
Paste: All these songs were specifically written for the film, and the film was written for the songs. Do you plan to perform these often?
Rutili: Well we have been. That's what we've been doing since the record came out in October. We've probably performed the film close to 30 times. We've performed the film in theaters and even in a few clubs. So, we're going to do some more of that, but we're kind of easing off that and just doing music shows. We'll do both. We have a tour with Wilco starting Sunday and we'll just play music.
Paste: Had you ever seen a band soundtrack something live before?
Rutili: Yeah, we've done it. Jim Becker and I (one of my bandmates in Califone) played in a band called BE and we'd toured with films before in that band. And we've done it with Califone with the Images Film Festival in Toronto. They basically called us out of the blue and asked us if we wanted to do live scoring with these Harry Smith films, early abstractions. So that was the first tie we'd doe it with Califone. And that was 2002. So we've done many shows with films.
Paste: How different is that than playing a rock show where everyone is looking at you as the frontman to hiding in the shadows and having all eyes on the screen?
Rutili: Oh, I prefer it. Plus seeing something visual always seems to trigger an idea that you wouldn't normally come up with musically. Having something to look at like that takes your busy mind off the equation. I seem to flow better when I'm seeing something and when images are triggering something that's happening musically.
Paste: Is there an element of improv to what you guys are doing?
Rutili: With Funeral Singers, yeah. There are beginning and end cues, but there's a lot of open space to improvise. So it's a little different every time we perform.
Paste: How special was it to screen the film at a festival like Sundance?
Rutili: It was pretty great. We did one performance with the band, and we did four screenings of just the film. And it was scarier and more exciting to show the film without the band. Because in the beginning once we knew we were making a narrative film, it was a three-part project. It was an album, a film and then a performance, so each of these three elements should be able to stand on their own. Sundance was the first time we saw the movie on its own and weren't performing with it. So that was really, really, really exciting. It was pretty amazing; all those screenings were sold out, and people seemed to really like it. It was great to just be able to eat popcorn and watch a movie. That was pretty amazing to me. I got really excited about that.
Paste: You guys are headed to SXSW this year. Will you screen the film there as well?
Rutili: Yeah, we've been getting some messages from SXSW Film that we'll be part of the film festival and part of the music festival as well.
Paste: Do you think you'll make more films?
Rutili: Yeah, I definitely will. I'm working on a new one now.
Paste: Will it be a similar thing that you guys play music to or will it be a stand-alone film?
Rutili: This is going to be a stand-alone film, but it still involves music heavily. But it's going to be a narrative film, more of a movie and less of a performance.
Paste: What's the best part of being a filmmaker?
Rutili: [laughs] Well, just being able to feel like my whole life I've been a musician and an artist. And to be able to work with film and story is really new to me. But it seems to be a combination of everything I've been working on my whole life. The visual part of it, the sound part of it, the music part of it. The only thing that's new to me is the story part of it, and that's the most exciting part, to be able to tell a story in an interesting way and be able to find a way to bring an audience into a story without being obvious and stupid. That's the best part for me right now and that's the newest part is learning to tell a story.
Check the official website for All My Friends Are Funeral Singers.
Others Tagged With