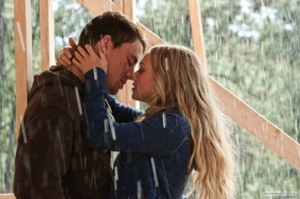 Release Date: Feb. 5
Director: Lasse Hallström
Writers: Jamie Linden (screenplay), Nicholas Sparks (novel)
Cinematographer: Terry Stacey
Starring: Channing Tatum, Amanda Seyfried, Richard Jenkins, Henry Thomas
Studio/Run Time: Sony Screen Gems, 105 mins.
There is nothing misleading about a film based on a Nicholas Sparks novel. For the past decade, titles like The Notebook, A Walk to Remember, Nights in Rodanthe and Message in a Bottle unabashedly wielded the looks of love (and two more of his novels are in studio development). The trend continues with Dear John, a romantic tale of love found, love lost and love stupidly misplaced. It starts off well enough, however, and one character in particular stands out.
While at the beach on combat leave, Army specialist John Tyree (Channing Tatum) performs a surfer's equivalent of picking up a dropped handkerchief when he retrieves Savannah's (Amanda Seyfried) purse from the bottom of the ocean. Before his two weeks are over, the couple shows all signs of becoming a permanent item as they promise to write letters (no emails) each day. At one point, the letters from Savannah stop coming before he receives the final correspondence that soldiers overseas dread, a "Dear John" letter. And that is where the film begins to lose its reason and common sense, and tangles itself into a web of farfetchedness: Savannah has ambitions to save humanity by sacrificing herself in order to help a father and his autistic son, while running a horse farm for disabled children. It's all strangely reminiscent of Cameron Diaz in Something About Mary; surely not a desirable comparison for director Lasse Hallström, who has crafted far superior cinema with Chocolat and Cider House Rules. In Dear John, Savannah appears to believe that love is never having to explain.
An extremely pleasant surprise veteran actor Richard Jenkins' role as John's father, whose strange behavior becomes justified as the story progresses. After being nominated for an Oscar in 2007's The Visitor, Jenkins again shows that he is deserving of another leading role. In Dear John, he is at first distant from his son while displaying what we learn is an undiagnosed disability. Tatum's soldier isn't as dynamic as the anguished Iraq veteran he played in Stop-Loss, though he still gives an appropriately patriotic performance when the twin towers go down. But Seyfried has the hardest part—playing an intelligent young woman who suddenly becomes incompetent at realizing simple and obvious solutions. For some, love is never easy.
Watch the Dear John trailer:
Others Tagged With